There's Going to Be a Big Problem With the Next Two World Cups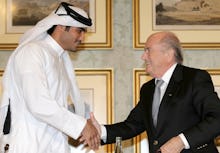 The news: Even though the next two World Cups are years away, gay fans have good reason to start worrying now: Both tournaments are in locales where anti-gay laws are strictly enforced.
The World Cup is scheduled to take place in Russia in 2018 and Qatar in 2022. A reminder of the challenges gay fans will face presented itself Wednesday, when Qatar's sports minister offered an alarmingly shifty explanation about how the country plans on treating homosexual visitors. 
In an interview with the Associated Press, Salah bin Ghanem bin Nasser al-Ali said he doesn't want to create "this impression, illusion that we don't care about our tradition and our ethical values." Translation? Don't expect a tolerant attitude toward LGBT soccer fans.
"We are studying all these issues," al-Ali said. "We can adapt, we can be creative to have people coming and enjoying the games without losing the essence of our culture and respecting the preference of the people coming here. I think there is a lot we can do."
Earlier in the interview, when the Associated Press pressed al-Ali on how gays will be treated, he compared it with selling alcohol in the stadiums (since alcohol is tightly controlled in the Gulf country), saying that the country would "study this and minimize the impact on our people and tradition." 
Why it matters. Uh, "be creative" in "finding solutions" so it doesn't interfere with Qatar's long-standing laws of homosexual discrimination doesn't sound comforting for gay fans who want to celebrate the beautiful game. 
And don't look to FIFA, soccer's governing body, to be a strong defender for gay fans. In 2010, its President Sepp Blatter caught flak for helpfully suggesting gays "should refrain from any sexual activities" that are prohibited in Qatar. (He later offered a lame apology.)
And while the Qatar games are eight years away, the 2018 World Cup takes place in Russia, which also has equally strict anti-gay laws that are worrying for fans. Last year, President Vladimir Putin signed a bill into law banning the "propaganda of nontraditional sexual relations to minors," thus making gay definitely not OK. The 2014 Sochi Winter Olympics were shrouded in fear and protests, since many people were scared of how strictly the law would be enforced. Russian authorities said it wouldn't apply to visitors or athletes at the games, and followed through. 
Unlike FIFA, the International Olympic Committee made a significant move in September by rewording its contracts with prospective host cities that it won't tolerate "any form of discrimination." But FIFA makes the beleaguered IOC look like the Ritz-Carlton of sport organizers. The soccer group released a report clearing Russia and Qatar of any wrongdoing in their bidding process, but it was labeled as "incomplete and erroneous" by its own investigator.  
Until FIFA wakes up, we're dreading to see the "creative" solutions Qatar will come up with.
h/t Outsports