The United States Is No Longer the Most Popular Country in the World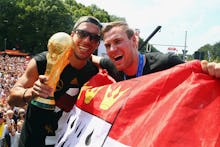 The news: A famous work ethic, high quality of life, cuckoo clocks: There's nothing more German than making the rest of us insecure, which explains why Deutschland has been named the most popular country in the world.
That's according to the Anholt-GfK Nations Brand Index, which for the first time in five years knocked the United States from the top spot. The last time Germany was in first place was 2008, when it was displaced by the U.S. The poll is meant to help "governments, organizations and businesses understand, measure and ultimately build a strong national image and reputation." 
This year's study surveyed more than 20,000 people from 20 countries. Participants were asked for their feelings about 50 developed countries on six categories, like culture, people and tourism.
The results: This is this year's rankings mirror last year's, with only Germany and the U.S. swapping spots:
1. Germany2. United States3. United Kingdom4. France5. Canada6. Japan7. Italy8. Switzerland9. Australia10. Sweden
Germany owes at least part of its ranking to its winning 2014 World Cup soccer team, which added an extra jolt to the nation's "sport excellence" score. Since the polls were conducted in the midst of the soccer spectacle, their dominant performance over Argentina in the finals likely helped boost its ranking to the top.
"Germany appears to have benefited not only from the sports prowess it displayed on the world stage at the FIFA World Cup championship, but also by solidifying its perceived leadership in Europe through a robust economy and steady political stewardship," explained Simon Anholt, the study's creator. 
Although the U.S. was ranked highly in several categories, like contemporary culture (thanks Real Housewives!) and education, it dropped in global peace and security. Respondents placed it at 19 out of the 50 countries surveyed. 
"In a year of various international confrontations, the United States has lost significant ground where tension has been felt the most acutely," said Xiaoyan Zhao, senior vice president of the Nation Brand Index at GfK. 
"Both Russia and Egypt have downgraded the U.S. in an unprecedented manner, particularly in their perception of American commitment to global peace and security, and in their assessment of the competence of the U.S. government."
Don't feel too badly, Americans. At least we're not Russia. Of all the nations ranked, Putin's fiefdom fell the most, from 22nd to 25th place. "However, on a global level, it is Russia that has received the strongest criticism from public opinion," Zhao noted. 
h/t Quartz