OkCupid Just Did for LGBTQ People What So Many Other Dating Sites Aren't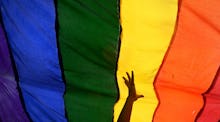 OkCupid is making it easier for everyone to find love.
The dating website is gradually rolling out expanded gender and sexuality options for those who don't fall into the same few categories. Previously, the service only let users choose from male or female and straight, bisexual and gay, but some have discovered that it's now offering a greatly expanded list of options.
The new choices for the sexual orientation pull-down include heteroflexible, pansexual and sapiosexual (someone who finds intelligence the sexiest thing ever).
The gender tab also now includes more than 20 choices including transgender options, genderfluid and androgynous. 
The update has only reached some of OkCupid's 3.5 million users. Those lucky enough to see the new choices are greeted with the message, "You're part of a select group with access to the feature. Keep in mind as we continue to work on this feature: For now, editing your gender and orientation is only supported on the desktop site."
Mic has reached out to OkCupid about the new options, but has not yet heard back.
Why it matters. It's a big win for proponents hoping OkCupid would finally be more inclusive. 
A petition on Change.org circulated last year insisting that the dating site expand its sexual orientation and gender options because "these binaries do not fit for all of us." It added that it's "extremely limiting on those members to have to fit such rigid gender and sexuality options."
In the past year, Facebook and Match.com have both instituted a similar slate of options for its users. The choices finally let them tell the world who they really are, rather than picking an option they might not feel comfortable with. As online dating continues to take hold, it's about time the dating sites recognize that not everyone can fit into the same basic boxes.
h/t NewNowNext