12 Awesome Foodie Cities That Aren't New York or San Francisco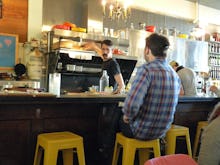 Unless you live in a big city, your only option for dinner is a chain restaurant with a smiley face as a logo — or so the common belief goes. Throw that thought in the garbage, because we've compiled a list full of places where the cuisine is just as good, if not better, than their big-city counterparts. 
1. Madison
Cold beer and fresh cheese; what else can you ask for? The Wisconsin capital might have only 300,000 people, but you can't tell from its appetite, which it sates with its surrounding farmland. Madison takes the farm-to-table concept seriously, as many of its restaurants proudly display the list of ingredients it gets from local farmers. 
You can't get more Wisconsin than going to a spot called Mickies Dairy Bar. The tiny place lives up to its name by serving greasy cheese curds, buttermilk pancakes and omelets doused in cheese. On the lighter side, there's L'Etoile, an upscale restaurant that taps into the local resources to churn out dishes like fresh pork chops with king trumpet mushrooms. And if you want straight-up food porn, Forequarter is your bet.
2. Austin
There are three things that come to mind when you mention Austin: music, miserable traffic jams and Tex-Mex. The latter of the three has become a trademark of the Texas capital, which has exploded into a foodie destination within the past few years as its population has soared.
There aren't a lot of cities where you can eat Tex-Mex for all three meals. So, if you want to try it: Start at Juan in a Million and forklift their Don Juan Taco, a hulking pound of bacon, potato, egg and cheese over a bed of tortillas for just $5.  
For lunch, if you're still up to eat after all of that, head to Cisco's and swallow down their cheesy enchilada platter. Finally, for dinner, head to La Condesa for a "modern Mexican" feast that has fancy guacamole and tacos that'll leave you thirsty for tequila.
3. Pittsburgh
This is not a city you typically see on any list describing the exceptional. But as a native, I contend there are actually food options better than simple sandwiches smothered in fries — especially if you love Italian. Even though the exodus of Italians happened in the mid-1900s, their cultural influences can still be felt along Pittsburgh's three rivers.
If you love lasagna, drop everything and go to Piccolo Forno for its oven-baked lasagna. Lidia's is another good option if you're in the mood for freshly made pasta, as is the famous Mineo's for pizza, which has made it a Pittsburgh mainstay for more than half a century. Just remember to pack the Tums.
4. New Orleans
What a crock (pot) this list would be if it didn't include this magical Louisiana city. It takes a stomach well-coated with beignets, po'boys and gumbo to weather the wrath of Bourbon Street. Someone could spend their whole trip scarfing down Cajun dishes — like red beans over rice, jambalaya and gumbo to name a few — and still feel FOMO from what they didn't eat. 
It would be stupid not to try out Mother's Restaurant for mix of all those things before going to the world famous Café du Monde in the French Quarter for coffee and beignets (fried fritters) that'll make you never look at Dunkin' Donuts again. 
5. Portland
This soggy Oregon city has earned quite the reputation over the past few years for being one of the hippest towns in the world. For starters, there are tons of microbreweries in Portland, including the BridgePort BrewPub and the Rogue Ales Distillery & Public House, which are good places to end up after a long, eco-friendly bike ride. 
But if beer isn't your thing, the food is just as satisfying. There's a "delicious glut of talented, creative chefs" offering their own spins on meals that only a chef living in Portland could offer. How about a plate of spaghetti and meatballs at Le Pigeon that's actually a plate of spaghetti squash with lamb meatballs and pickled artichoke? Yep, that obviously exists.
6. Kansas City
Besides confusing everyone by being in the state of Missouri, Kansas City's next claim to fame is its barbecue. If you're yearning for a mouth-watering, lip-smacking, drool-inducing slab of meat soaked in the juiciest of sauces, then this is the city for you.
There are famous haunts like Fiorella's Jack Stack Barbecue that, judging by the menu, will basically barbecue any part of the cow or pig and serve it up. Other stops include Gates Bar B.Q. and Arthur Bryant's, for — you guessed it — more 'cue. Better yet, the Midwestern city has been voted one of the top cities in which to snag a deal.
7. Nashville
Yes, there's actually a real city named after the hit ABC drama. Just kidding. But the Tennessee city does embrace food as much as it does its country music heritage. Most of Nashville's trendy spots are scattered on the east side, including Burgers Up, which uses locally killed (sorry, raised) beef to serve hamburgers to high-profile celebs like Sheryl Crow and Reese Witherspoon. Or try out Husk, a new restaurant that changes its menu daily.
If you're looking for something more upscale, head over to Lockland Table, which offers up "hot crispy pig ears" as an appetizer. And a trip to Nashville wouldn't be complete without a cocktail or six, so stop at the Holland House Bar and Refuge, where fancy cocktails are only $10. 
8. Philadelphia
The City of Brotherly Love also really loves its cheesesteaks. Every local is going to tell you somewhere different, but it seems like whatever choice you make, it's not going to be bad. Little known fact: Philly actually serves food that isn't a meat-and-cheese heart attack concoction.
For starters, Talula's Garden in Washington Square earns high praise for its farm-to-table cuisine that'll make you feel fresh and detoxed after eating a cheesesteak. Then there's Di Bruno Brothers, where marinated vegetables, expensive olives, fresh cheeses and mouth-watering deli meats could make for one hell of a party platter — or dinner for yourself. 
9. Baltimore
This is probably the one place where "crabs" has a positive connotation. There's no better place to indulge in the shellfish than this Maryland city, because what else are you going to do there? If you're up to cracking a hard shell and sprinkling your cuts with Old Bay seasoning, then head to Costas Inn or Cantler's Riverside Inn. 
If you hate seafood or are allergic to shellfish, there's no need to feel left out. Open your mouth to pit beef, a "top roast that's been minimally seasoned, grilled directly over charcoal and sliced deli-style," so basically Arby's but good. There's only one place to trust if you're craving that, and it's Chaps Charcoal Restaurant.
10. Charleston
Humongous mansions and The Notebook are perhaps the two things the South Carolina city is most known for. But a third should be Charleston's cuisine. The charmingly muggy town mixes its low-country cuisine of seafood with southern flavors to concoct dishes heavy in crab, shrimp and oysters. 
Head to Husk (we're sensing a trend), the city's "golden child" of upscale restaurants. Hailed as "the most important restaurant in the history of Southern cooking" by observers, every signal ingredient has its roots from the South to create dishes like brioche and bacon stuffed quail with fresh cornbread. There's also Two Boroughs Larder, home of the highly regarded steamed clams dish.
11. New Haven
Let's be honest: This Connecticut city is probably the last place in the world that comes to mind when non-natives think about pizza. So shake off that side-eye and listen up. The pizza that's New Haven's trademark is its own special breed. As Thrillest explains, it's "a hotter, crispier, and dirtier descendant of Neapolitan style pie."
Curious? Then chomp down at Frank Pepe's, which is home to the No. 1 pizza in America: the white clam. It's topped with clams, olive oil, garlic, oregano and tons of grated parmesan that supposedly makes you wonder how you've eaten New York or Chicago pizza prior to this. Its Margherita pizza also earns high praise. 
12. Las Vegas
There are treasures hidden between the gaudy swim-up bars, $0.99 prime-rib specials and miles of endless buffets. Since most of the city has popped up within the past few decades, it doesn't have much of a local flavor to rely on. But what Las Vegas doesn't have in neighborhood cafes, it makes up for with restaurants owned by celebrity chefs.
Where else would you be able to find joints owned by Wolfgang Puck, Bobby Flay, Gordon Ramsay and Giada de Laurentiis within a few miles of one other? It's hard to throw a poker chip down the strip without hitting a restaurant that hasn't passed Zagat's rigid approval. 
If those high-end eateries are out of your budget, casinos are littered with affordable food courts and sandwich shops that are actually decent. And there's the always-appetizing Pink's Hot Dogs in Planet Hollywood, where you can fill up on a $4 hot dog and still feel rich. No trip to either coast required.