Another Airline Is About to Make Flying That Much Worse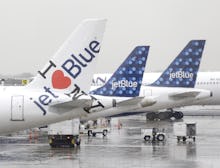 JetBlue made two announcements on Wednesday that should leave its customers feeling exactly like the airline's namesake itself: blue.
In a move that seems to signal caving into Wall Street's demands to boost profits, the airline said it's cramming more seats into its larger planes while ditching its free checked baggage option, which leaves Southwest Airlines as the only major U.S. carrier offering passengers to check up to two bags for free.
How's this going to work? Beginning in early 2015, JetBlue is rolling out three fare choices. That cheap $49 ticket to Florida probably won't include a free checked bag. However, two more costly "premium" tiered options will offer more "rewards," like checking a bag for free. Wow!
It's not yet clear how much checking a bag would cost outside these premium tickets, and JetBlue has yet to respond to Mic's request for comment. However, it seems like new "fare families" will look similar to what Frontier, Spirit and other nickel-and-diming airlines charge their customers:
According to JetBlue's projections, these "revenue initiatives" will add around $200 million a year to its bottom line, and that's something that won't leave JetBlue shareholders feeling blue.
The seating situation isn't exactly great either. Along with the baggage fee hikes, JetBlue also announced plans to increase the number of seats they squeeze into their planes. The carrier is adding another 15 seats to its Airbus A320 planes, bringing the total number to an alarming 165. 
However, there are a few bright spots in this dark storm of leg-crunching. For one, this isn't happening until mid-2016, so everyone's legs will have some reprieve until then. But in comparison to other airlines, JetBlue still offers the most legroom in coach. By outfitting its planes with thinner seats, JetBlue's whopping 1.5-inch drop in average seat pitch still puts it on top compared to other airlines:
Why it matters. For an airline that has marketed itself as being decidedly different, the changes represent a stark reality that it's actually not different at all. Sure, it was the first airline to add TVs and offer decent customer service, but JetBlue has to make unfriendly decisions like these to stay in business.
"This was something that the carrier needed to do in order to be more competitive and to close the financial gap with its peers," financial analyst Jim Corridore told Reuters. "It [had placed] them at a serious competitive disadvantage in an industry where profit margins are very, very low."
If that's what it takes to keep JetBlue in the air, at least we're not just stuck with the other guys.