Comcast Is About to Solve the Most Annoying Thing in the Universe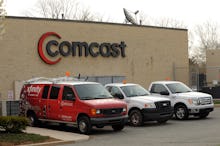 Cable titan Comcast is hoping to finally solve customer service's greatest problem: figuring out when the cable guy is coming.
Comcast announced Thursday a "technician tracker" within its iOS app, which lets customers know when cable technicians are a half-hour away. The feature takes a page from Uber's playbook, using GPS tracking to show the van's location and also allowing customers to rate their technician. Comcast will initially test the boredom-killer in Boston but plans to take the feature nationwide.
Charlie Herrin, Comcast's senior vice president of customer experience, said in a release that the company is "hoping this will prevent our customers from just needing to sit at home and wait."
Or, at least, wait for more than 30 minutes. A peek at the app shows an Uber-like interface -- and a Tinder-like ability to scope out your technician:
It's a smart PR move for Comcast, which is in need of good publicity after a series of disasters over the past year. For years, we've been held prisoners in our homes because of unrealistic timeframes ("Uh, let's say 9 a.m. to 8 p.m.?"), but at least Comcast has taken a very small step for our approval.
Now if they employed this manpower into improving their customer service employee's attitudes.