Watch Jon Stewart and Stephen Colbert Have Their Final Face-Off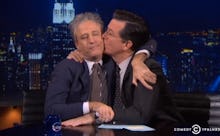 Jon Stewart has entered Stephen Colbert's thunderdome for one last time.
On Thursday's Colbert Report, Colbert reunited with his former boss and host of the "liberal, elitist" Daily Show to reaffirm our belief they're the best in late night television. With the Colbert Report drawing to a close as Colbert takes over the Late Show, Stewart used his final opportunity to change his friend's conservative opinion.
Using Rosewater, Stewart's directorial debut about a journalist detained in Iran, he suggested to Colbert that we can all get along: "Rather than killing everybody else, what if we were to coexist with them in some type of fashion?" 
"Coexist, like that bumper sticker people have?" Colbert snapped back. "Are there better ways of doing things than we do things, or are you a 'blame America first'?" 
To say the least, it doesn't sound like they're going to agree.
The segment ended beautifully, with the pair giving each other the most adorable bear hug in The Daily Show/The Colbert Report history.
"I'm so glad you're on the show before the show is over," Colbert cooed. "This is so lovely." 
Indeed.