#ThanksMichelleObama Proves That High School Lunches Are in Big Trouble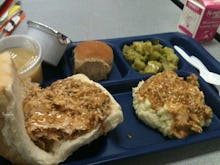 Mot of us have blocked out any memory of elementary school lunches — and for good reason. The pizza was plastic cheese on a sponge, the bologna tasted like a gym mat and the "fresh salad" was anything but. And despite first lady Michelle Obama's best effort to revamp school menus nationwide to offer a more nutritious and edible selection, apparently they still leave a lot to be desired. 
Over the past few weeks, the hashtag #ThanksMichelleObama has been trending among moody teenagers tweeting pictures of their government-supplied lunches with a message for FLOTUS: "This sucks." 
Take a look at some of the tweets:
(That's "Spanish rice," not vomit.)
In 2012, the first lady teamed up with the U.S. Department of Agriculture to overhaul school lunches for the first time in more than 15 years. The plan, officially dubbed the "Healthy, Hunger-Free Act," called for schools to provide meals with less sodium, improved ingredients (whole grains over white) and more fruits and veggies.
"We have a right to expect the food (our kids) get at school is the same kind of food we want to serve at our own kitchen tables," Obama said at the time. The altruistic plan to combat childhood obesity faced pushback from some Republicans for being too costly for some schools to provide. Students voiced their displeasure because the lunch options left them hungry. 
In some school districts, fast food locations like Chick-fil-A and Pizza Hut are selling "versions of their commercial products directly to school kitchens," the New York Times reports — an even scarier prospect, considering those meals are laden with sodium and fat. While that "Spanish rice" doesn't look good, at least it's not crammed with bad ingredients.
Two years later, however, it still appears that no one can come to a consensus of what a school lunch should look like. Regardless, it shouldn't be garbage, and that's something Obama should be lauded for, even if her plan wasn't properly executed.