Pope Francis Just Took a Major Stand for Human Rights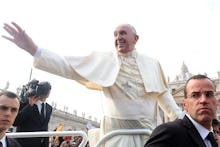 The news: "We ask for dignity, not for charity."
That's the powerful statement Pope Francis delivered Thursday while demanding the world distribute its bounty to the poor and hungry. At a meeting of the UN Food and Agriculture Organization, Francis said that open access to food is a basic human right that shouldn't be dictated by profits. 
The pontiff said it's disheartening to see the world's food be lost to spoilage and waste. And, as UN data shows, it's a widespread problem as a third of food is lost due to those two reasons. 
"It is also painful to see that the struggle against hunger and malnutrition is hindered by market priorities, the primacy of profit, which have reduced foodstuffs to a commodity like any other, subject to speculation, also of a financial nature," he said.
Francis' speech also harkened back to a 1992 quote from St. John Paul II at the first UN nutrition conference that addressed the issue of "paradox of plenty," i.e. there is enough food for everyone, but not everyone can eat it. He added that "waste, excessive consumption and the use of food for other purposes is visible before our very eyes."
More than two decades later, the principle still applies, Francis said.
Why it matters. One of Francis' papacy trademarks is advocating for the poor and hungry. In his Easter speech this year, Francis lamented the "scrooge of hunger" that was "aggravated by conflicts and by the immense wastefulness for which we are often responsible." He's also called for the "legitimate redistribution" as an effort to stamp out poverty.
Although it's going to take a lot more than speeches to end one of the world's biggest problems, it's reassuring to see a high-profile figure like Francis to speak out for the underrepresented.  
h/t Huffington Post