A Letter Lego Sent to Parents in 1974 Holds an Important Message for the Parents of 2014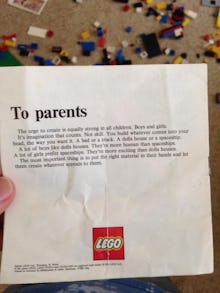 Imgur
Who would've thought that Lego was on the forefront of promoting gender equality?
A letter that supposedly accompanied Lego boxes in 1974 has been making the rounds on the Internet this week. The letter reminds parents that "the urge to create is equally strong in all children...boys and girls." Take a look:
The letter was first posted by Reddit user fryd_, who said he unearthed the letter "with his niece and nephew at their Grandma's house" in a box with a "blonde girl on the front with a white Lego house."
If real, this letter perfectly aligns with Lego's history of egalitarian advertising that hasn't pigeonholed its products to just boys. 
But like everything on the Internet, the legitimacy is being questioned. The writers at iO9 are less skeptical, pointing to the letter's use of Lego's 1970s logo, which is slightly different than the one used presently. As for further evidence for authenticity, Lego's ads in that era used similar fonts. Lastly, there's a German version of the letter that reads almost identical to this one.
The evidence is convincing that it's legitimate and it would be a bizarre thing to fake. It's a compelling statement to make for the 1970s — and more importantly, it still holds true today.
Mic has reached out to Lego for comment on this letter. We will update this post accordingly with their response.