5 Maps That Reveal Just How Terrible Thanksgiving Travel Is Going to Be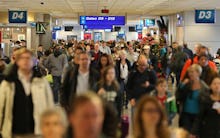 A massive winter storm is expected to slam several states along the East Coast Wednesday and snarl travel on one of the busiest travel days of the year. With AAA predicting 41 million people to hit the roads and another 3.5 million flying in the next few days, there couldn't possibly a worst time for this to happen.
Meteorologists predict the weather mass could dump up to 10 inches of snow from New Jersey to Massachusetts and pummel cities like New York, Philadelphia, Washington, D.C. and Baltimore with a nasty mix of pounding rain, sleet and snow.
The storm is expected to cause "travel nightmares" at the country's biggest airports and busiest highways, reports AccuWeather. The map below shows one track the storm is expected to take, with rain hitting the coast while heavy snow accumulates inland.
Since weather is fickle, the storm's path is still unclear. Meteorologist Steve LaVoie told Bloomberg that at least the good news is no model predicts heavy snow battering major East Coast cities. At most, Boston and New York could get up to 3 inches of snow.
"Even if we had a worst-case scenario, it's not looking too bad," LaVoie said, adding the ski resorts throughout the Northeast will do "very well." 
CNN meteorologist Indra Petersons tweeted out a picture of two different forecast tracks that echo LaVoie's prediction.
Beginning Wednesday, AccuWeather said that up to a foot of snow could fall throughout the Northeast, but depending on the temperature, weather systems could be more rain than snow. 
"The storm should rapidly strengthen off the coast of New England on Wednesday night, leading to strong and gusty winds, especially near the coast," said AccuWeather meteorologist Ben Noll. "This would lead to some blowing and drifting of the snow, making travel on Wednesday night very difficult."
If driving or flying is in your Thanksgiving travel plans, try to head out on Tuesday or early Wednesday before the worst of it hits. 
"Given the storm's current forecast and speed, conditions across central and northern New England would be better for travelers in the morning than the afternoon hours on Wednesday, as conditions would then be deteriorating," AccuWeather notes. 
So, is there any good news? 
Yes. Anyone who doesn't live on the East Coast won't have to contend with severe weather on Wednesday. Rain is expected to shower Florida (although not badly), and it will be mild and clear from Los Angeles to Atlanta. Huge airport hubs like Dallas, Chicago and Phoenix won't be plagued with weather delays either.
Good luck and remember to check with your airline so Thanksgiving dinner isn't spent at T.G.I. Friday's.