2014 Will Be Remembered as the Year of LGBT Rights in Country Music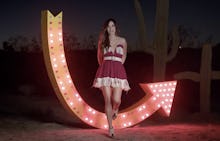 Last Thursday, two mainstream country singers came out of the closet.
The first, '90s star Ty Herndon, revealed his identity as an "out, proud and happy gay man" in an interview with People magazine. Hours later, singer Billy Gilman followed Herndon's lead, posting a video to YouTube to share with his fans that he too is gay. The singers are two of only a handful of country artists who publicly identify as gay, making their announcements major steps forward for LGBT rights in the country music community. That's saying something. Country music, as the Dixie Chicks learned in 2003, doesn't necessarily have a track record of being particularly friendly towards public declarations of progressive politics. 
But in 2014 especially, things have gotten notably better. Herndon's and Gilman's revelations come during a year that has seen a handful of other important artist-led milestones for LGBT rights in the country music industry, milestones that indicate the LGBT-averse reputation of country artists might not be all that deserved. They're also milestones that strongly suggest that country music's historic conservatism has more to do with business than with country fans or artists.
Even in the fictional world, country is changing. ABC's Nashville prominently featured a storyline a lot like those of Herndon and Gilman, revolving around the struggles of a closeted country singer named Will Lexington. The show has taken its time letting Lexington's story develop, careful to show how his primary reason for remaining closeted is fear of destroying his career. That Nashville is made in conjunction with major industry players and songwriters especially gives weight to the show's decision to portray Lexington's storyline as they have.
But big things are happening in the real city of Nashville too. In October, the queen of country herself, Dolly Parton, made no bones about her support for her gay fans, telling Billboard, "I think everybody should be allowed to be who they are, and to love who they love. I don't think we should be judgmental. Lord, I've got enough problems of my own to pass judgment on somebody else."
Earlier this year, Kacey Musgraves forged a new relationship between country and GLAAD, becoming the first country artist to perform at the GLAAD Media Awards. Appropriately, Musgraves sang "Follow Your Arrow," a single off her 2013 album Same Trailer, Different Park that encourages same-sex relationships "if that's what you're into."
"Follow Your Arrow" went on to win Song of the Year at the CMA Awards earlier this month. The victory seemed to surprise even Musgraves, who took the stage to accept the award and exclaimed, "Do you guys realize what this means for country music?" As the song was up against higher-charting hits with less controversial subjects, it wasn't exactly favored to win. Not only that, the CMAs are voted on by fellow members of the music industry. So this win especially felt like a victory for a new brand of progressivism in country music, one led by the artists themselves.
It's not just a victory for the message. Musgraves co-wrote "Follow Your Arrow" with Brandy Clark and Shane McAnally, two openly gay Music Row songwriters who have written many of the biggest hits of the last few years. Between the two of them, Clark and McAnally have worked with an all-star roster of artists that includes Miranda Lambert, Dierks Bentley, Kenny Chesney and Reba McEntire, collaborations that again show country music's historic and stereotypical lack of LGBT representation doesn't have much to do with the actual artists recording and performing country songs. 
But there has been a lack of representation for LGBT voices in country, and it clearly isn't coming from the artists — it's coming from the business itself.
Country music's historic closed-mindedness likely has far more to do with those who control the music's distribution than those who create or listen it. As Flavorwire's Jillian Mapes pointed out, "Follow Your Arrow" reached No. 10 on Billboard's Hot Country Songs Chart, which factors streaming and digital sales into chart positions, while it only managed to hit No. 43 on the radio-only Country Airplay Chart. That's an indication that it's country gatekeepers on an industry level — not fans — who have a bigger problem with Musgraves' progressive message. A report from Billboard cited those gatekeepers claiming they wanted to play the song but couldn't for fear of offending more traditional-minded listeners. In short, the people were open-minded, but the industry was not. 
Thanks to this attitude, country radio is plagued by homogeneity. Despite countless vocal critics, it's also a radio world that has not had a female Billboard airplay chart-topper since Carrie Underwood took the top spot for "Blown Away" in 2012. That's largely due to the industry's commitment only to promoting songs that sound like their definition of a hit. The statistics show how far the industry has to go, but the artists tell a different story.
As Musgraves proved with her CMA victory and as Ty Herndon and Billy Gilman's fans proved with their reactions, people are ready for a more diverse range of voices on country radio, including voices that better represent current feelings towards LGBT rights. It's time the industry took note. People don't want the old politics any longer.