"Jogger Pants" Are the Clothing Item Our Lazy Selves Have Been Waiting For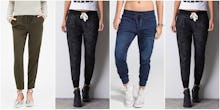 A piece of clothing that seemingly didn't exist last year is about to have a breakout Christmas.
Jogger pants, i.e., tapered sweatpants, have been named the "newcomer gift" of year, according to Google's shopping experts. Google searches for joggers shot up 39% from October and, judging from the chart below, are way up over last year:
Haven't heard of jogger pants? You've probably seen them. Retailers from both ends of the price spectrum are stocking their shelves with joggers. Brands like American Eagle and Hollister price theirs between $40 and $50, while designer jogger pants go as high as $200 at Bloomingdale's. 
Urban Outfitters, too, is profiting off the jogger craze. They've cornered the market on specialty jogger pants, like a tear-away version for guys and a silky track pant for women, as seen below.
So why the sudden obsession over what are basically fancy sweatpants? The rapid rise in popularity among shoppers could be attributed to the explosive sales of workout gear and the pants' comfort.
The athletic apparel market is "surging," according to the Wall Street Journal, because Americans are forgoing uncomfortable clothes (RIP three-piece suits) for cozy items, like yoga pants and sneakers. 
Financial analysts predict sales of athletic apparel to become a $100-billion-a-year business within the next five years. The massive growth is partly blamed on "yoga poseurs," that is, people who don't partake in yoga yet stock up on the pants because they're comfortable. 
The experts have found us out: We're just pretending to go to the gym when we wear workout gear.
The sector is growing so large that industry experts have coined a term for it: athleisure. It's that segment that jogger pants fall squarely into, because they have the feel of sweatpants but a more structured look, so they can be worn at Sunday brunch and the Monday meeting alike. In other words, the perfect clothes for all us lazy people.
Retailers are betting big that jogger pants are a hit with both sexes. But the trend is leaning toward male shoppers, who hope that it becomes the "yoga pants for men." Guys like them because they can flaunt their status symbol — their sneakers — and be comfortable at the same time. A Complex.com editor told the WSJ that the jogger pants style "eliminates the tragedy of having great kicks ruined by awful jeans."
But more importantly, they're super comfortable. And despite many Americans' professed love for fashion, if we're being honest, we're all in pursuit of stuff that feels cozy, especially around the holidays. As recently as last year, UGG boots were the most-searched fashion item on Black Friday, despite how much everyone professes to hate them.
Thankfully, we now have another Black Friday item to get comfy in. Except this time, it's socially acceptable.