There's One Glaring Problem With the 'Late Late Show' Hosting Schedule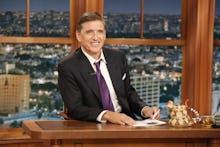 The news: CBS announced Wednesday the fill-in roster for the Late Late Show while it awaits the arrival of its new host, and there's already a huge problem — a distinct lack of women.
For the two-month gap between when Craig Ferguson leaves and newly installed host James Corden arrives, the network announced that Wayne Brady, Drew Carey, Thomas Lennon, John Mayer, Will Arnett and Judd Apatow are some of the men slated to keep the seat warm. 
Keyword: guys.
As Vulture frustratingly points out, "There won't be any female representation in CBS late night." Were worthy contenders like Aisha Tyler, Amy Schumer, Amy Poehler, Sherri Shepherd and Margaret Cho — to name a few of a very long and talented list — not available? 
To be fair, there is a week scheduled when the women of the Talk will produce all-new shows for the 12:35 a.m. slot, but the network apparently couldn't be bothered to find a woman to host the Late Late Show solo.
No to women: The decision not to have a woman for the slot, or even any of the fill-ins slots, continues late night's long tradition of sexism. Besides Chelsea Handler and Joan Rivers, a woman has never hosted a late night talk show. 
After Ferguson announced he was leaving, many were hoping CBS would choose a woman of late night —it didn't. Instead, they went with a largely unknown British male (Corden), a decision that only keeps the patriarchy of late night in place. 
And apparently, CBS likes it that way. Comedian Kathy Griffin said the network was "not considering females" for Ferguson's old slot, a claim CBS denies. 
"We could be looking at 40 or 50 years until a woman is hosting a network late-night talker," Griffin told the Associated Press. Sadly, sounds like she's right.
h/t Billboard