Buying Girl Scout Cookies Just Got So Much Easier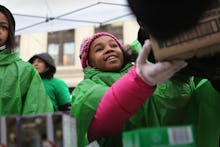 Stuffing yourself with Girl Scout Cookies is about to get a whole lot easier. 
The century-old organization is finally entering the modern era — it will soon let members sell Thin Mints, Samoas and other blood sugar-spiking varieties of their famous confections online. When sales begin in January, Girl Scouts will be allowed to either peddle the cookies through a personalized website or a mobile app, according to the New York Times.
There's one catch: Buyers can only access the websites if they're emailed a nontransferable link, to discourage the scouts from creating an unfair advantage over others. The Girls Scouts of the United States of America is making privacy a top concern by not letting identifying information be posted publicly on the websites. 
It's a big move that finally answers customers' — and the girls' — demands.
"Girls have been telling us they want to go into this space," Sarah Angel-Johnson, a Girl Scouts of the U.S.A. official who's leading the digital efforts, told the Associated Press. She said it gives the girls "vital entrepreneurial lessons in online marketing, application use and e-commerce."
That doesn't mean the $4 boxes of cookies won't be available at supermarkets and other places. Rather, the new option will give the organization an extra boost of revenue to the tune of $800 million, according to its estimates.
While you'll still have to make a personal connection with a local scout organization to obtain an email link, online sales solve a big problem for people who do their buying on the Internet or worry about their cookies being stolen, since they'll be shipped directly to the buyer. 
Several Girl Scout members and their parents welcomed the news. Zack Bennett, father to a 9-year-old scout, said online sales will help her increase her sales to 1,500 boxes this season. 
"I'll be sitting in the backseat to help her, certainly when it comes to credit cards, things of that sort," Bennett told the AP.  "But it makes perfect sense to have it be on the computer. It's definitely time the Girl Scouts came into the 21st century."