The Surprising Story of How Ugly Christmas Sweaters Are Actually Saving America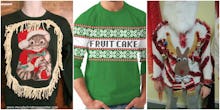 It might be unsightly to everyone around you, but there's nothing ugly about Christmas sweaters — in fact, the story behind some of them is quite beautiful.
Those knitted sweatshirts draped with gaudy Christmas icons, like a drunk Santa or promiscuous snowmen, are becoming a huge business for small retailers. We've already known they're trendy, but according to Bloomberg Businessweek, ugly Christmas sweaters are turning into a million-dollar industry for smaller outlets.
Take the Ugly Christmas Kit. For around $30, buyers get a do-it-yourself kit filled with the essentials to create the ugliest Christmas sweater south of the North Pole. The kit's massive growth in popularity has prompted larger outlets Nordstrom and SkyMall to stock up on the little-known brand's creation.
"I've never seen a product or category blow up like this," Meri Barnes, an executive with the company, told Businessweek. And talk about a Christmas miracle: The company expects to sell more than 400,000 kits this year — a whopping 1,000% increase over 2013. 
The novelty item is helping entrepreneurs cash in on the Christmas craze. There's no better proof than that of Anne Marie Blackman, a stay-at-home mom turned one-woman empire. In 2008, Blackman was looking for something to sell on eBay to pay for her kids' college and noticed that sweaters were exploding in popularity on Google Trends.
After visiting thrift stores in her neighborhood, she amped up the tackiness and designed her own, uh, unique take on them. "I've sold about 25,000 and certainly made over a million dollars in revenue," she told Businessweek. The business is a year-round venture, with most of the shirt's materials coming from the United States.
Another stay-at-home mom found success with the not-so-ugly trend too. Deb Rottum cashed in after her eBay store, Deb's Handmade Ugly Tacky Christmas Sweaters (which sells exactly that), made her an Internet sensation. 
For about $50, Deb really knows how to create an ugly sweater, not to mention sell it with a personal twist. "My goofy face was just [to say], 'Hey, have fun. Come buy my sweater," Rottum told ABC News. Fair enough.
And then there's Tipsy Elves, another small store that's cashing in and teeters on the cruder end with its designs. Founded by friends Evan Mendelsohn and Nick Morton, their take on the ugly Christmas sweater netted them "several million" dollars within the first few years of business. 
With efforts like Small Business Saturday pushing back against the nation's reliance on large retailers, these ugly Christmas sweaters are actually one good way to support fledgling companies. After all, what could be a better way of supporting "made in America" products than by buying shirts DIY'd with sequins and glue guns?
Of course, big box stores like Wal-Mart, Target and Topshop are jumping in the craze, as ugly Christmas sweaters are no longer the exclusive purview of small business owners. "Competition picks up every year," Jack McCarthy, owner of UltimateUglyChristmas.com, told Businessweek. "But so does demand."
So go ahead, wear your tacky sweater with pride. There's nothing ugly about buying from companies that aim to follow the "made in America" mantra. 
Below, some of the beautiful sweaters that can show your love for small businesses: