9 Powerful Photos Show All That the Pope Accomplished in 2014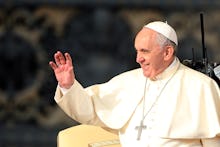 Pope Francis had quite the year. 
Since being dubbed TIME's Person of the Year in 2013, the pontiff spent most of 2014 of his large and booming speeches kept in lockstep of his papacy's major beliefs: help the poor, modernize the church and, to his best effort, asked for world peace. Pope Francis, for many outside the Catholic Church, appears to best pontiff the modern world could ask for: compassionate, humble, and open to the changing world around him. 
Like any outspoken public figure, it came with a few hiccups. One of the most notable screw-ups when the cool Pope was too cool and said that gay and lesbian members have "gifts to offer" to the community. It was widely believed to be one of the first positive pronouncements his office had about gay people, but the Vatican was forced to backtrack on the statement after conservative members of the church found his views "irredeemable." But even with those papal faux pas, Francis further proved that at least he's still trying to make the world a better place. Let's review:
1. He urged the world's plutocrats to help the poor
In January, Pope Francis penned a powerful letter to attendees of the World Economic Forum that asked for the richest people on earth to stop being greedy and distribute the money to the poor.
"I ask you to ensure that humanity is served by wealth and not ruled by it," he wrote, adding that the "decisions, mechanisms and processes directed to a better distribution of wealth, the creation of sources of employment and an integral promotion of the poor which goes beyond a simple welfare mentality."
2. He called for the international community to end the crisis in Ukraine in Syria
On Christianity's "most hopeful day," a.k.a Easter, Pope Francis asked for peace in countries rocked by violence, like Ukraine and Syria.
He prayed that God would "enlighten and inspire the initiatives that promote peace in Ukraine, so that all those involved, with the support of the international community, will make every effort to prevent violence."
Francis asked for both sides in Syria to "boldly negotiate the peace long awaited and long overdue."
3. He expressed openness to doing away with celibacy for priests
Who says the Pope doesn't like to have a little fun? In May, Francis said he's open to negotiation about changing the 1,000-year-old Catholic rule that makes celibacy the lay of the holy land.
"It is a rule of life that I appreciate very much, and I think it is a gift for the church. But since it is not a dogma, the door is always open."
4. He made a silent visit to the a wall separating Bethlehem and Jerusalem
Pope Francis most emblematic moment of 2014 came when he made his first trip to the Holy Land. He bowed his in prayer at a graffiti-covered wall that separates Bethlehem and Jerusalem while a young Palestinian girl looked on.
"The powerful gesture is a silent statement against the controversial, but tangible symbol of division and conflict that many international leaders have failed to make," Mic wrote during the May trip.
5. He spoke out against the horrors of drug addiction
 Although he might be known as the cool Pope, he's still very straightedge. During a meeting of the International Drug Enforcement Conference in June, he confirmed that he isn't going to be lighting up anytime soon.
"Drug addiction is an evil, and with evil there can be no yielding or compromise," he said, adding that legalization efforts "are not only highly questionable from a legislative standpoint, but they fail to produce the desired effects."
6. He preached against corruption in the financial system
For Pope Francis, it's actually about ethics in financial reform. He told a group investors in June that they should focus on helping out the greater good rather than the bottom line.
"It is important that ethics once again play its due part in the world of finance and that markets serve the interests of peoples and the common good of humanity," adding it's becoming "increasingly intolerable that financial markets are shaping the destiny of peoples rather than serving their needs..."
7. He begged for forgiveness for the Church's past child sexual abuse
Before Pope Francis took the position, the Catholic church has been embroiled in disturbing sexual abuse claims that the organization was slow to solve. But that changed under his purview.
In April, he personally asked for forgiveness: "The church is aware of this damage, it is personal, moral damage carried out by men of the church, and we will not take one step backward with regards to how we will deal with this problem, and the sanctions that must be imposed," he said.
He meant what he said, too. In July, Francis privately met and conducted mass with sexual abuse victims.
8. He officiated marriages of people outside of Church dogma
Pope Francis push for the Catholic church to become a more welcoming place became evident when he officiated the wedding of 20 couples in September who were didn't fit the religion's mold.
That meant he married couples that lived together before marriage (gasp!) or had children out of wedlock. He backed up his untraditional decision with a powerful message that "the path is not always a smooth one, free of disagreements, otherwise it would not be human.
He added: "It is a demanding journey, at times difficult, and at times turbulent, but such is life. Marriage is a symbol of life, real life, not some TV show."
9. He showed us what real compassion for the homeless looks like.
Pope Francis' altruistic side truly shined when he announced in November that the Vatican was building showers near St. Peter's Square for the homeless.
The announcement was triggered by a top Vatican official meeting a homeless man who said it was difficult to keep clean. The showers fall in line with Francis' hallmark of helping the poor, and could be used as a template for other cities to humanely treat the disadvantaged.
But it wasn't the first time Francis got literally down and dirty with the disadvantaged. In April, he washed the feet of a dozen elderly and disabled people to "show his willingness to serve others like a 'slave,'" CBS News reported. 
Francis compared the gesture to when Jesus washed the feet of his apostles. "Jesus made a gesture, a job, the service of a slave, a servant," he said. "And he leaves this inheritance to us: We need to be servants to one another."