Melissa McCarthy's New Clothing Line Is Doing What All Other Fashion Brands Should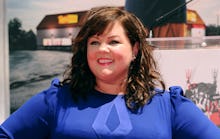 Celebrity fashion lines are a dime a dozen — everyone from Kanye West to Jessica Simpson have thrown their hats in the ring. But Melissa McCarthy's recent announcement of her own line, based on a lifelong love for clothes and a bona fide design background, is nearly revolutionary. 
The Mike & Molly actress's line will "shake it up and bring plus-size up to fashion," she told Women's Wear Daily; but it will not only cater to the plus-size demographic. The as-yet-unnamed collection, produced in partnership with private label Sunrise Brands, will run from "straight sizes" through plus-size without making a distinction between the two.
"I'm doing all sizes. It's a strange thing to stop at a certain size," McCarthy told WWD. "Women don't, so why should clothes?"
Separate is not equal when it comes to fashion. Her point is hard to disagree with, and yet the fashion industry seems to insist on the distinction. Just enter any clothing store and it quickly becomes apparent: Plus-sizes are considered outside the norm, even though the average American woman is a size 14. While there has been a push in recent years to cater to this demographic, this has typically meant creating a separate plus-size line (e.g., Forever 21's Forever 21+) or a separate stores entirely (e.g., Lane Bryant), rather than just including bigger sizes in the regular shopping experience. 
"It's a strange thing to stop at a certain size. Women don't, so why should clothes?" 
And that's when larger sizes are included in-store at all, of course. Old Navy's recent kerfuffle with shoppers was an unfortunate reminder that many stores that do stock plus-sizes relegate them to their websites, forcing shoppers online.
Progress is being made... but not enough. The additional lines added by retailers like Forever 21, H&M and DKNY remain distinct subsets of the brand, separate from the main brand identity. Anita Little, associate editor for Ms Magazine and former plus-size shopper, points out that this divide "seems to scream that I wasn't normal; I wasn't average. I was plus. ... Separate, but definitely not equal."
Even worse, often the plus-size clothes cost more than the "normal" women's options, a practice for which Old Navy was widely criticized. In some cases, they're charging $12-$15 more for upper sizes.
Gap Inc. spokeswoman Debbie Felix defended the pricing model, stating, "This higher price point reflects the selection of unique fabrics and design elements," made by "experts in creating the most flattering and on-trend plus styles" (an argument not many are buying). 
And that's from a store that's bothering to make larger clothing in the first place. There are many brands, particularly among high-end fashion designers, that simply don't go above a size 10 or 12. McCarthy's decision to plunge into fashion design actually came about because none of the high-fashion designers would create an Oscar dress for her, turning down a huge marketing opportunity.
The prejudice, while often unspoken, is clear. Chanel's Karl Lagerfeld, one of the most renowned designers in history, once famously said, "No one wants to see a curvy woman."
For real equality, "regular" and plus-sizes need to live together. Ugly biases by influencers like Lagerfeld are just one reason plus-size clothes are shunted off into their own exclusive zone, distinct in design and limited in availability. But they shouldn't be, particularly when there are so many potential buyers at stake. The average American woman is wearing double-digit sizes, with 57% of women buying a size 16 or larger. And yet plus-size clothes are nearly always cordoned off, away from the "normal" styles.
McCarthy is seeking to address this unnecessary separation, first with sportswear in 2015 then upscale fashion and beauty products in 2016 and 2017, according to WWD. She's not the first designer, celebrities included, to offer items in every size; Kelly Osbourne of E!'s Fashion Police introduced her own label this year on HSN, with items running seamlessly from sizes 0-24.
But Osbourne's line hasn't made enough waves to change the tide of the mainstream fashion industry; perhaps McCarthy's could. "Just because you go above a size 12 doesn't mean you lose your love of fashion," McCarthy recently said. And just because you're a larger size doesn't mean you want to shop in your own segregated section with your own less stylish clothes. 
Hopefully, where McCarthy leads, the rest of the industry will follow.