Relive the Best Films of 2014 With This Amazing Supercut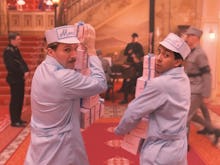 Awards season is coming up, and it's getting hard to make small talk about movies you've never seen.
But there's a solution: David Ehrlich, an editor at film journal Little White Lies, masterfully knitted together a supercut of the 25 best movies released this year. Blockbuster movies and indie flicks all star in the mesmerizing 13-minute video that is best described as a "pristine, immaculately beat-matched shrine" to the year's best movies.
The mash-up contains a jarring list of big blockbusters (Lucy, Gone Girl and Godzilla) and smaller ones you might have missed but will want to see after getting a taste in this trailer.
"It's been a great year for movies, and a tireless year for me doing my best to see as many of them as possible," Ehrlich noted. His stringent editing process only included movies formally distributed in the U.S. in 2014, but he included some films that have been submitted to the Best Foreign Language Film category for next year's Oscars. 
h/t Vulture