Australia Just Did Something to Fight Misogynistic Video Games That the U.S. Never Would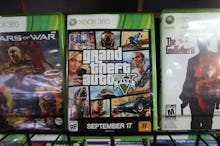 The Australian unit of Target has pulled Grand Theft Auto V from its shelves after thousands of people signed a petition lamenting the game's horrific treatment of female characters. 
In a statement posted on its website, Target said that the decision to pull the game from its 300 stores came after concerns were raised about the "game's depictions of violence against women" and explained that the "decision to stop selling GTA5 is in line with the majority view of our customers."
The move was prompted by a petition created by three former sex workers who started it to get Target's attention. They criticized the game for encouraging players to kill women for entertainment purposes.
"The incentive is to commit sexual violence against women, then abuse or kill them to proceed or get 'health' points – and now Target [is] stocking it and promoting it for your Xmas stocking," the statement said, according to Gizmodo Australia. 
The petition said that GTA5 "literally makes a game of bashing, killing and horrific violence against women," adding that "women are being portrayed as deserving to be sexually used by men and potentially murdered for sport and pleasure – to see this violence that we lived through turned into a form of entertainments is sickening and causes us great pain and harm."
GTA5's premise is following three criminals who trawl a knock-off version of Los Angeles (dubbed Los Santos) and kill, rob and shoot everything in their path. Gizmodo wrote that players "run down, run over and ... repeatedly shoot" female characters, like prostitutes, in order to gain points. 
Australia's Classification Board rated the game as R18+, meaning it's restricted to buyers over the age of 18 because it contains "classifiable elements such as sex scenes and drug use that are high in impact." Target insisted that it will sell other games rated R18+, but this was the exception because of "strong feedback" from shoppers.
Since its release in September, the game's abominable features, like the ability to rob and murder sex workers after sleeping with them, has been a contentious issue among critics. The Telegraph said it was "designed deliberately to degrade women" and blasted its misogynistic ways.
Despite the outcry, GTAV is a commercial success, as it raked in $1 billion in the first three days it went on sale. "We believe this marks the fastest that any entertainment property, including video games and feature films, has reached this significant milestone," the creator, Take-Two Interactive, said in a statement.
Target of Australia should be lauded for forgoing profits over ethics, but it's unlikely that its money-worshiping American counterpart would ever do the same.