DJ Earworm Just Released His Brilliant Mash-Up of the Defining Songs of 2014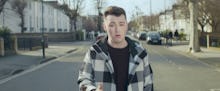 For the seventh year running, DJ Earworm has woven the greatest songs of the year into his "United State of Pop." Every year, this mash-up defines the highs of the past year in pop music by merging the top-ranking songs on the Billboard charts into an emotional aural journey.
This year's is one of his best yet.
The four-minute song is framed by Maroon 5's hit "Animals," the trumpets from Taylor Swift's "Shake It Off" and a surprisingly prominent vocal from Swedish newcomer Tove Lo's "Habits." There are divas (Ariana Grande, Katy Perry, Lorde and even Idina Menzel), British guy groups (One Direction and Bastille) and, of course, a healthy sampling of "Turn Down for What."
The song actually reflects a few big shifts in our musical culture, too. In an interview with Billboard, where the supercut first appeared, Earworm explained that this year's version is slightly slower than years past because of electronic dance music's slow decline in popularity. 
"The 'United State of Pop' became this dance track from '09 to '12, and then starting last year, there just wasn't enough in that genre to fully support it, so I went down-tempo," he said, adding that 2014 was "dominated by these slow, ponderous songs" like John Legend's "All of Me" and "swaggering hip-hop songs" like Jason Derulo's "Talk Dirty."
"It's a little bit more diverse, and definitely softer than it's been," Earworm said. 
And no wonder: It was a serious year for the world, and our music rose to the task. Through soul and dark pop songs, our pop musicians chronicled a turbulent year. And this is what 2014 sounded like.
h/t Billboard