There's a Big Problem With This Year's Flu Vaccine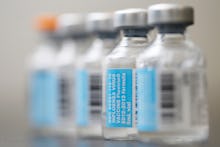 If your family keeps nagging you to get a flu shot, this just might be the excuse you need. 
The Centers for Disease Control and Prevention said Wednesday that this year's vaccine isn't actually a good match to battle the most common flu strain that's spreading across the country this season, called the Influenza A (H3N2). 
The agency took a sampling of flu cases this season and discovered that "just under half were a good match for the current Influenza A (H3N2) component" contained in this fall's batch of flu shots, Reuters reveals. That means that the flu strain has mutated, rendering the shots less effective.
Flu activity this season has been low with only two states, Alaska and Louisiana, reporting widespread activity. But the CDC warns that it's only going to worsen as the flu, particularly the Influenza A (H3N2) strain, continues to spread.
It gets worse: The Influenza A (H3N2) strain knocks people off their feet. The CDC says that contracting it has higher overall hospitalization rates and leads to more flu-related deaths. Young kids and the elderly are particularly vulnerable to these side effects. 
And it's not uncommon for a flu virus to mutate. In fact, it happens quite frequently. But since flu vaccines are crafted months in advance, it's simply too late to invent a new vaccine. 
"It's tempting to think that we can make a new vaccine for the strains that pop up late in the year like this, but flu vaccines take a long time to make," CDC flu expert Dr. Joe Bresee told NBC News. 
So, should you still get a flu shot? If you can get through the arm-numbing pain, absolutely. 
The flu shot still offers protection against "drifted viruses" and the other strains of the flu going around, like the Influenza A (H1N1) and the B virus that are both injected into the vaccine. Also, the flu shot could lessen the severity of the flu's symptoms if contracted. 
"We are recommending strongly still that people who haven't been vaccinated get vaccinated," CDC flu expert Dr. Bresee said. "Every year, vaccine is the best way to protect yourself against the flu."
Not getting vaccinated is stupid, especially because they're easily accessible at many places. The bottom line is they still work, but you might need wash your hands a little more frequently this year to help prevent the flu.