Watch a Target Employee Give the Most Inspirational Black Friday Pep Talk Ever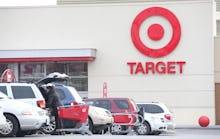 No one was more pumped for Black Friday than Scott Simms.
Simms amped his employees up last week right before the Westminster, Maryland, Target opened its doors to a crowd of eager shoppers. Channeling his inner beast mode, he pleads: "Whatever comes through those gates, you will stand your ground with a smile on your face."
Considering that Black Friday is often associated with insane shoppers and miserable retail workers, it's hard not to feel inspired after watching the clip: 
The video first appeared in Reddit's video subreddit and was obtained by Vincent Scellini, Simms' former coworker. Apparently this isn't an act: Simms always approached his job with this level of fervor.
"He always brought a very positive energy and unique humor to the workplace," Scellini told BuzzFeed, adding Simms was "simply a fun person to be around."
This is the second time in two months that a Target employee blew up the Internet — remember Alex from Target? But unlike Alex, whose rise to stardom was tainted by evidence that it was a marketing stunt, Simms is all real.
The retailer confirmed the authenticity of the video to the Huffington Post and complimented his speech. 
"We have long said that Thanksgiving weekend is to retail what a championship game is to sports," a Target spokeswoman said. "Scott is clearly quite a coach."
Perhaps the most surprising part of this video was the discovery of one retail employee excited for the dreaded day. So here's to you, Simms: May your passion for customer service inspire other employees to persevere through the hell that is Black Friday for years to come.