Another Unarmed Black Man Has Been Shot and Killed by Police in America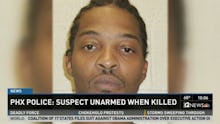 Add Rumain Brisbon to the growing list of unarmed black men killed by police officers this year.
On Tuesday, a Phoenix police officer killed the father of four after the officer, whose name hasn't been released, mistook Brisbon's bottle of pills for a gun. The seven-year veteran of the force was reportedly responding to a drug deal, but what happened after he arrived remains unclear, reports the Arizona Republic.
In a department-issued report released Wednesday, a neighbor reported an alleged drug deal happening in a black SUV. When the officer approached Brisbon, he told him to put up his hands. Instead, according to the officer, he put his hands in his pockets, which prompted the cop to take out his gun.
After that, Brisbon fled toward nearby apartments with the officer chasing after him and a fight ensued.
"During the struggle, Brisbon put his left hand in his pocket and the officer grabbed onto the suspect's hand, while repeatedly telling the suspect to keep his hand in his pocket," Sgt. Trent Crump, a police spokesman, told the Republic. "The officer believed he felt the handle of a gun while holding the suspect's hand in his pocket."
Crump said Brisbon didn't keep his hands in his pockets, which prompted the officer to fire two shots. That "handle of a gun" turned out to be a bottle of oxycodone pills.
But portions of the police's version have been challenged by witnesses. One neighbor who saw the incident unfold said Brisbon was dropping off food to his children and claims the officer never tried to talk to him. Also, the police said Brisbon yelled at him, but the neighbor denied that. 
It's up to the Maricopa County attorney's office if the officer will face criminal charges, notes BuzzFeed. 
The report was issued quickly to provide transparency in the wake of the recent events in Ferguson, Missouri, and New York. "We always have been and always will be concerned about what it is that our residents think about our role in this community and the levels of force that we use," Crump said.
He also defended the officer's action. "Let's be very clear: The officer was doing what we expect him to do, which is investigate crimes that neighbors are telling him are occurring in that part of the complex."
Protests, which have engulfed much of America in light of the police-involved killings of Eric Garner and Michael Brown, spread to Phoenix on Thursday night. About 150 people took the city's streets demanding an end to police brutality. 
Several black community leaders spoke out questioning why justice isn't being served in defense of their community. Karl Gentles, the public policy chairman of the Greater Phoenix Black Chamber of Commerce, told the police to get all facts about the shooting and address the department's perception. 
"There has to be some additional communication, dialogue, training, about how black males are perceived," he told the Republic. "Because, as you see from other incidents, black males are feared with unfound reason in many cases, and there is an explicit overreaction in dealing with African-American males that leads to these contentious situations."
h/t Arizona Republic