J.K. Rowling Just Gave Harry Potter Fans the Best Christmas Present Ever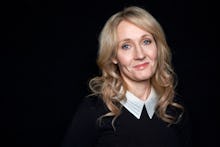 If more tales of boy wizard Harry Potter are on your Christmas wish list, you've clearly been good this year.
Between Dec. 12-23, author J.K. Rowling is rolling out "festive surprises" on Pottermore, the online Hogwarts headquarters. The new stories, some written by Rowling, debut each morning at 8 a.m. EST. 
According to an email sent to Pottermore subscribers, Potterheads will enjoy the "wonderful writing by J.K. Rowling in moments from Half-Blood Prince, shiny gold Galleons and even a new potion or two." Reportedly, one of those stories will center on Harry's nemesis, Draco Malfoy. 
Of course, this isn't the first time Rowling tickled her fans with new Potter stories. In October, she released a 1,700-word novella about the wicked professor Dolores Umbridge. 
We imagine this is what a lot of Potter fans look like right now:
h/t BuzzFeed