LGBT Country Singer Brandy Clark Is About to Get the Moment in the Spotlight She Deserves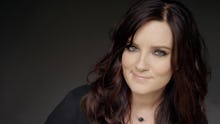 Brandy Clark has never had a solo radio hit or a commercially successful album. She is, as far as country singers go, mostly unknown. And that's not so surprising given that Clark is one of a small handful of openly gay artists in a traditionally conservative genre.
But last Friday, the National Academy of Recording Arts and Sciences announced that Clark was nominated for Grammy Awards for Best Country Album and Best New Artist. Nobody saw this coming. 
Clark's identity as an out lesbian in the country music industry gives these nominations even greater weight, as LGBT rights have only recently started to become a prominent topic of conversation in the genre. By recognizing Clark, the Recording Academy — presenters of the Grammys — are not only honoring the incredible work of a talented artist, they are validating the need for diversity in a genre that, let's face it, really needs it right now. 
For those unfamiliar with Clark, she has been a force in country music for a long time now, working with some of today's highest-profile country artists all while serving as an inspiration to LGBT community members everywhere.
Clark got her start as a songwriter, penning award-winning hits for major country artists like Kacey Musgraves and Miranda Lambert. She was nominated for a Grammy for Best Country Song in 2013, for her work on Miranda Lambert's "Mama's Broken Heart," and recently took home Song of the Year at the Country Music Association Awards for Kacey Musgraves' controversial, LGBT-friendly anthem "Follow Your Arrow." It was a win that indicated a potential turn for the progressive in the traditionally conservative genre of country music.
2013 was especially momentous, though, because Clark finally stepped into the spotlight on her own, releasing her first full-length album, 12 Stories, through small independent label Slate Creek Records. 
Since its release, Clark's album has sold a mere 37,000 copies, a figure that makes Clark's nomination for Best Country Album a considerable surprise. As she'll go up against major releases from superstars like Eric Church and Dierks Bentley on Feb. 8, calling 12 Stories the underdog would be an understatement. 
Yet Clark is no stranger to critical acclaim, even if she lacks the visibility of her fellow nominees. New Yorker music critic Sasha Frere-Jones listed 12 Stories as one of his favorite albums of 2013, while Jody Rosen, formerly of New York Magazine, doubled down on Frere-Jones and declared the album his favorite, bar none. 
While Clark deserves this honor, it's still a surprise that she's receiving it given how often the Grammys are just a glorified popularity contest. One look at the other nominees for Best New Artist will suggest as much — Sam Smith, Iggy Azalea, Haim and Bastille are Clark's contenders, and they're all names you probably recognize due to any number of mega-hits. Clark, by those standards, is undeniably a dark horse.
Whether Clark will be able to best heavy hitters like Smith or Azalea is yet to be determined, but her nomination is victory enough. When talented artists are honored for the quality of their output instead of how many times their single is played on pop radio, music wins, and we all get to enjoy the spoils. And at such a pivotal moment for country music, her nomination is a huge win for progressive fans all over. Brandy Clark is about to get the national attention she deserves.