Watch the Awkward Ferguson Sketch That 'SNL' Didn't Air This Weekend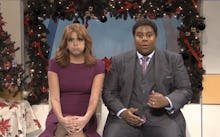 It's hard to be a St. Louis morning news anchor right now.
In a sketch that didn't make it to air this weekend, Saturday Night Live mocked the usual peppiness of a morning show that, in the wake of unrest and a growing chorus of outrage in Ferguson, Missouri, and across the country, becomes difficult to sustain.
Strong gets in the best one: "Downtown on Dec. 9, the blackies are per... I'm sorry, the Black Keys." Other timely jokes include one about using just the whites of an egg, a grand jury and a jog that's dubbed the "superior race."
Saturday Night Live's YouTube channel claims the sketch was cut for time, but judging from audience discomfort, it was probably too much for them. But of all the show's Ferguson's critiques over the past few weeks, this sketch was its strongest, mostly because of the always on-cue Thompson. 
h/t Mediate