Watch President Obama Guest Host 'The Colbert Report' — And Roast His Own Presidency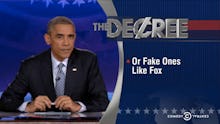 With Stephen Colbert's time on Comedy Central winding down ahead of a big move to CBS, the comedian decided to temporarily hand over his Colbert Report to a special guest Monday night.
Enter President Barack Obama, who interrupted a Colbert rant near the top of the program — much to the delight of a friendly crowd at George Washington University's Lisner Auditorium — and playfully ordered the host to exit stage right.
"You've been taking a lot of shots at my job," the president said. "I've decided to take a shot at yours,"
Obama took over the anchor chair with his customary cool, offering a presidential take on a Colbert segment, "The Word," renamed for one night, "The Decree." 
Watch the leader of the free world having a few laughs at his own expense:
(The Report die-hards out there will note the president's spot-on impression of Colbert's trademark raised eyebrow after the Fox News gag.)
After a break, Obama ceded the desk back to Colbert, who asked a few light questions before sneaking in one solid gibe.
"The economy has been on a pretty good run," Obama said at one point, rattling off a series of positive economic trends, like last week's big jobs report.
"I'll give it to you," Colbert interjected. "You've employed a lot of people, mostly as secretary of defense."
Obama recently pushed out his third secretary of defense, Chuck Hagel, before nominating a fourth, Ashton Carter, on Dec. 5. 
Colbert maintained his faux conservative cable news anchor persona throughout the show. He was so good, in fact, Obama once seemed to address him, accidentally or not, by the name of the man often credited with inspiring the character — longtime Fox News host Bill O'Reilly.
It has been a frustrating couple years for Obama, but a showing like this — the wit, the self-effacing humor — makes it easy to remember what made him so appealing in the first place. 
You can watch Colbert's extended interview with Obama right here:
Source: Comedy Central