The Police Shooting of 12-Year-Old Tamir Rice Just Took an Even More Disturbing Turn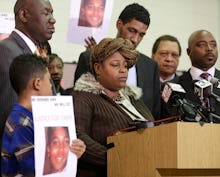 The news: New details in the shooting death of 12-year-old Tamir Rice in Cleveland paint a disturbing picture of police procedure at the notoriously troubled department. 
Rice's mother, Samaria, blasted the Cleveland Division of Police on Monday at a press conference for mistaking her son's BB gun as a real weapon, saying he "didn't even have a chance" to cooperate with police when they responded to a 911 call. While the two officers claim to have told Rice to put his "hands up" when they approached him, but his mother refutes that.
"If they had said something he would have cooperated with them," she told NBC News. "By them scaring him like that, he didn't even have a chance. They didn't even give him a chance to cooperate."
According to Samaria Rice, two boys knocked on her front door and said her son had been shot. When she arrived at the scene, she found her son lying on the ground bleeding, her 14-year-old daughter who was with him in the back of a police car and the police standing around, she said. Her daughter had also reportedly said police tackled and handcuffed her.
"I noticed my son on the ground," Samaria Rice said. "They wouldn't let me through and then I saw my daughter in the police car. The police told me to calm down or they would put me in the back of the police car. I asked my police to let my daughter go and they wouldn't."
Rice said police gave her the option of riding in the police car with her daughter or taking the ambulance with her son — she chose the latter. "They made me sit in front of ambulance like I was passenger," Rice  said. Tamir Rice died in the hospital the next day.
"He was my baby," his mother said.
This is just the latest in a line of disturbing revelations. Shocking surveillance video released weeks ago shows police shooting Tamir Rice within seconds of the patrol car arriving at the scene Nov. 22. A 911 caller told the dispatcher the gun Rice was wielding was likely fake, but that information wasn't conveyed to the officers who responded to the call. 
Last week, the Plain Dealer reported that Tim Loehmann, the officer who fatally shot Rice, was found unfit for duty two years ago. A letter in Loehmann's personnel file from his brief tenure at the Independence (Ohio) Police Department reportedly said he "had issues with handling guns." The department described his behavior during firearms training and qualification as "distracted" and "weepy." Loehmann eventually resigned.
These revelations are alarming, but they're even more disturbing for Samaria Rice, who said, "Cleveland police have failed to come knock on my door and tell me what happened to my son. Nobody ever showed up, ever."
Why it matters: Rice's comments only compound to the Cleveland Division of Police's troubled track record. Last week, the Department of Justice released a scathing report detailing the organization's alarming policing tactics, including using 100 patrol officers to chase down one car in the city's streets. The department is being ordered to undergo a federally mandated reform, its second in a decade.
As Rice's case moves forward, his mother said she's looking for a conviction. The family has filed a civil suit and is appealing for Loehmann to be charged without a grand jury trial because lawyers believe the surveillance video is "enough probable cause to indict." 
This case adds to the national debate over police brutality sparked by the shooting deaths of Michael Brown in Ferguson, Missouri, and Eric Garner in Staten Island, New York. Samaria Rice said she has retained Benjamin Crump, the attorney for Trayvon Martin's and Brown's families.
The Cleveland Division of Police insisted the case will go to a grand jury, but judging by the grand jury decisions in the Brown and Garner cases, Crump says they aren't optimistic. 
"The family is very distrustful that local justices will indict," he said.