Bill Cosby Is Finally Facing His Accuser in Court, But Not for the Reason You Think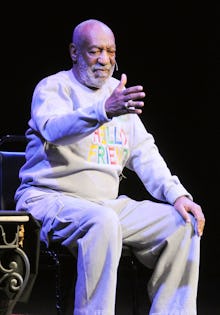 Bill Cosby may be headed to court. But it's not for the reason you might think.
Tamara Green, who claims the comedian drugged and sexually assaulted her in the 1970s, filed a defamation lawsuit on Wednesday. Because the statue of limitations has run out for the sexual assault incident, this is the only way Green can face Cosby in court.
Green is suing "because she says repeated denials from Cosby's publicist have branded her a liar," TMZ reports. Green claims she has faced ridicule in both her professional and private life.
At a press conference, Green explained that since the statute of limitations expired on the over 40-year-old accusation that prevents her and other woman from pressing criminal charges, this is the only way to bring the case to court. 
"I want it put to a jury. ... I want it ended, finally," she said, per the Washington Post. "I want my name restored. This will give me and other women the chance to go to a forum where we will speak our stories and tell our truth."
The background: Green claims Cosby drugged her during a lunch date and then groped her at her apartment during the early 1970s. Green initially made her claim on the Today Show in 2005 and then again in an interview with Newsweek in February of 2014. 
Green told Newsweek that she waited to long to report the incident because how the media completely "assaulted" other alleged victims of Cosby's behavior over the years. "It never works out, unless you're bleeding and there's DNA and an eyewitness," she said. "I was 19, and he was the king of the world, so how was it going to work? I was a teenager. Nobody would've believed me."
"It was a career-ender when I came forward," she added. "All my clients were suddenly interested in whether I was a liar or a former hooker or a philanderer. People want their lawyers to be serious-minded intellectuals, honest and honorable people. It casts a shadow on your character if you dare to attack one of these icons. ... To come out and admit that you've had a guy's hands all over you is disgusting to some people. People accused me of seeking my own fame, but I had a high profile of my own. I don't need a rapist or child molester to make me famous."
Green's attorney, Joseph Cammarata, previously represented Paula Jones (who sued former President Bill Clinton in 1994 for sexual harassment). Cammarata said that "another client" might be added Green's lawsuit, while hinting that several other women who accused Cosby of lurid sexual acts could also join.
With the defamation lawsuit, Cammarata said that the facts of sexual assault could shake out in court. And as the court evaluates Cosby's repeated denials, "You have to look at and litigate whether Ms. Green was assaulted," Cammarata says. "Mr. Cosby will have to answer the allegation."
If Green wins, she's asking a jury to award her above the minimum of $75,000. 
Martin Singer, Cosby's attorney, released a statement in response to Green's lawsuit saying that they are "very confident that we will prevail in his proceeding and we will pursue claims against the attorneys who filed this action." 
Regardless, if this lawsuit moves forward, it could present an avenue for justice for the 33 woman who have accused Cosby of sexually assaulting them, along with other despicable acts. Green's decision to use the defamation lawsuit could be the tip of the iceberg and finally bring closure to these women.