17 Surreal Photos and Videos from the 'Inappropriate Porn' Protests in the UK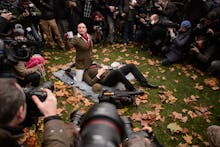 It's Facesitting Friday in Britain. 
Hundreds of people practiced their most provocative positions in front of Parliament in London to protest the country's new pornography law. Under the new regulations, porn produced in the country now prohibits performers from engaging in "inappropriate" sex acts like fisting, strangulation and even facesitting.
The new law has been criticized as an updated form of censorship and moral hand-wringing. Activists like Sex Worker of Year 2013 Charlotte Rose argued these measures — which include female ejaculation — specifically "take aim at female pleasure." She organized the protest on Facebook and slammed the rules as not making a "distinction between consensual and non-consensual practices between adults."
Only about 200 people turned out for their support, a lot less than the thousands expected, theTelegraph reports. But for what they lacked in manpower, they made up for in sex acts and shouts of "Urine for a shock if you expect us to stop."
Here are some slightly NSFW pictures from the naughty scene: 
Even though the protesters' numbers were lower than expected, no group of people were more excited than the British media. Throngs of photographers showed up and didn't leave any facesitting poses or sign unsnapped. Sex sells, especially on slow news days.