14 Pieces of No Bullsh*t Relationship Advice From Your Favorite Feminists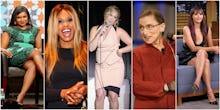 In 2014, feminists took on some of society's biggest issues, from the gender pay gap and sexism in the video game world or street harassment and domestic abuse. But amid such high-profile debates, women also opened up about something no less important: their personal lives. 
This year brought us refreshingly honest insights on what it's like to date, fall in love, get married, have sex and break up as a woman in the 21st century, from high-profile ladies who didn't shy away from sharing their experiences. Love is not perfect. Being single is not the end of the world. And when your relationship fails or lets you down, you don't allow it to define you. 
These wise words resonated with us not because they came from famous feminists, but because they ring true for any woman who's ever loved, lusted or lost. Here are 14 pieces of no-bullshit relationship advice and wisdom that reminded us feminism isn't just political — it's personal.
On picking a worthy partner:
On embracing good sex:
On owning your independence:
On real, imperfect love: