2015 Will Officially Be the Year Of Hummus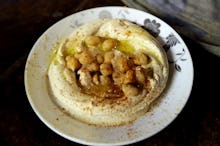 Hummus, the centuries-old Arabic bean dip, is on the verge of having its biggest year ever.
The news: According to food trend-tracking group Baum and Whiteman, 2015 is predicted to be the year when hummus becomes the "it" food for Americans. "Once a niche product here, eaten primarily by Arab and Israeli immigrants," the report says, hummus is following Greek yogurt's "same trajectory" of being the inescapable food trend.
Hummus' popularity has actually been a few years in the making, with Americans gravitating toward it for a few reasons. For one, as the trend for healthy eating continues unabated, hummus is a nutritious, light alternative compared to other spreads or dips. Sorry, guacamole. 
"Hummus is high in protein and fiber and low in fat, so it touches lots of dietary bases," the report notes.
Secondly, the chickpea dip's rise to stardom can be traced to Pepsi. The beverage giant owns Sabra, the ubiquitous hummus brand that's now the top seller. CEO Ronen Zohar hopes the Middle Eastern treat is accessible to Middle America with an aggressive marketing plan, like making it the National Football League's official dip and convincing people it's better than salsa.
Everyone is realizing what hummus lovers have known forever. "Most of the people in the U.S. never tasted hummus," Zohar told Bloomberg Businessweek. "You have to change their mindset that even if the name is strange and the brown color of the hummus is not as appetizing, it tastes wonderful."
Slowly, but surely, the plan is working. In 2006, only 12% of American households bought hummus. That figure is up to 20% and rising, according to the report. More tellingly, hummus sales are up to $800 million in 2012, a massive increase from $16 million in 2006.
Lastly, Americans loving topping food with more toppings. Hummus is highly customizable, with some supermarkets selling varieties including "beet, pumpkin, Thai chili, spinach artichoke, guacamole, edamame, cilantro chimichurri, lemongrass chili," the report notes. 
We even now have kale hummus, which is as good a sign as any that hummus has become the most popular kid on the food block. (In related news, the trend report also declared kale to be on the way out.)
Hummus lovers, rejoice: Baum and Whiteman compare hummus' trajectory to "the rise of Greek yogurt," which means we can expect hummus to be more widespread in 2015 in supermarket aisles and restaurants.
It's about to be hummus' year, and we get to live in it.