India Just Showed the World Exactly How to Stand Against Terrorism: #IndiaWithPakistan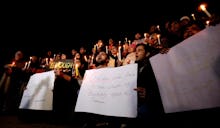 The safety of a nation's children trumps all.
No matter what problems the two countries have, Indians are putting aside their differences with Pakistanis today in a show of solidarity following an atrocious attack on a school in Peshawar. Taking a sign from #IllRideWithYou, some Indians are using the tag #IndiaWithPakistan on Twitter, proving that love and peace shouldn't be contained within borders.
The tag, the Times of India reports, has "drowned out the voices that tried to stoke the flames between the two constantly at-war nations." Following the violent partition of India separating from Britain in 1947, Pakistan and India have been at odds with each other. The two have fought over ownership of bordering country Kashmir, fought in three wars and are on the verge of a nuclear standoff. 
But none of that matters today since nothing can justify the brutal killing of 130 children at a place where they should feel safe: a school. 
The hashtag was started by Tehseen Poonawalla, a prominent Indian columnist. He tweeted this to his 80,000 followers:
It soon snowballed from there, much to his surprise.
This heartwarming campaign is proving that despite long-held grudges between the two nations, the shared humanity of their people is undeniable. There's no justification for attacking a school full of children, and by doing something so heinous, the terrorists may have united those they sought to divide.