CNN's Don Lemon Let Viewers #AskACop — And It Went Even Worse Than You Imagined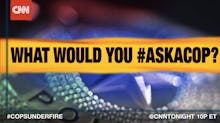 Everyone knows police and social media don't mix — everyone except CNN, apparently.
Anchor Don Lemon's show CNN Tonight hosted a town hall meeting Tuesday with police officers dubbed "Cops Under Fire" to explore issues related to police brutality that have occupied the national conversation in past weeks. The show also asked viewers to tweet in questions using the hashtag #AskACop.
What was supposed to be a discussion between CNN's Twitter followers and the police about race relations turned into a barrage of sarcastic, angry and disdainful messages that reflected many Americans' emotions following the deaths of Michael Brown, Eric Garner, Tamir Rice and others.  
Tweets varied from people asking the officers about their acts of violence, why the system appears to be extremely unjust and their perceptions among the public.
Take a look:
CNN's intention of engaging in a national dialogue didn't go as planned, the result of asking an insensitive question in a forum that historically loves to troll tone-deaf hashtags. Or perhaps it's because such a complex issue shouldn't be deduced to a hashtag with a discussion facilitated from a known blowhard.
But it wasn't a total loss for CNN:
Congratulations!