Watch the Futuristic Trailer for the Final Season of 'Parks and Recreation'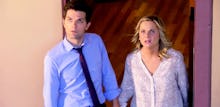 It might be 2014 here, but it's already 2017 in Pawnee, Indiana.
After jumping ahead in time at the end of last season, Parks and Recreation is returning for its final season — in the future.
The 30-second trailer highlights a cutting-edge show, with Leslie Knope (Amy Poehler) and Ben Wyatt (Adam Scott) battling a drone and April Ludgate (Aubrey Plaza) swiping a magical-looking touch screen. And, for whatever reason, Andy Dwyer (Chris Pratt) has his own ninja television show — probably the evolution of his Johnny Karate character. 
Whatever, it's fantastic. Take a look:
The show's time-jump will be the central focus point of the final season, confirmed creator Mike Schur to HitFix in April. If the trailer is any indication, the future is going to mock the future, except Schur said there won't be any hover boards. "It's going to be very, very gently sci-fi," he said.
The show recently finished shooting, and, suffice to say, people have mixed emotions:
Parks and Recreation's last season premiere (*sniff*) airs on Jan. 13 on NBC.