Two Maps Reveal the Utter Hell Holiday Travel Will Be This Week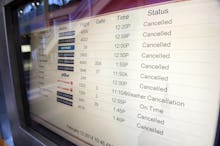 If you thought traveling on Thanksgiving was bad, Christmas isn't going to be any better.
A massive storm packing a wintry punch is expected to wreak havoc across the Midwest and the Northeast on Christmas Eve, historically one of the busiest travel days of the year. That's very bad news for the nearly 100 million people the American Automobile Association expects to hit the roads or fly next week.
Although it's too early to predict where, when and how much snow and rain will fall, a "quite active" storm is brewing and it could make for "challenging travel," The Weather Channel reports. But what is guaranteed is that the worst of the storm will happen on Wednesday.
Let's start with the most feared part: snow. Luckily, it won't hit the South, mid-Atlantic and New England, but it will pose problems across the snowy Appalachians mountains and parts of the Midwest.
"While not a huge amount of snow is forecast for the Ohio Valley states, the lower Great Lakes and central Appalachians with the storm itself, snow showers or a quick burst of snow could lead to a rapid covering of snow on the highways," AccuWeather predicts.
But just because there won't be snow, it doesn't mean that we're out of the woods. A disgusting mishmash of sleet, rain and wind is forecast to disrupt the Mid-Atlantic and Midwest portions of the country, which will affect busy airports and major highways. 
Major airport hubs like Chicago, New York, Boston and Washington, D.C., will have to contend with fog and wind, while other parts of the country will see minimal weather-related delays.
The wind is expected to be the worst part of the storm. Gusts up to 60 mph will impact travelers up and down the East Coast and even into the interior.
"With such a strong system with a tight pressure gradient, wind will be a big issue. Gusty winds may cause flight delays at airports like [Detroit] or [Cleveland]. And with a roaring jet stream, people flying anywhere along or across the East Coast can expect some turbulence at flight-level," forecasts Gawker's weather blog The Vane. 
Get ready for your holiday travel to look a whole lot like this:
So, what's the best way to avoid the storm? Leave on Tuesday. Or, if that's not possible, suck it up and remember that there are presents at the end of the dreaded journey.