Pope Francis: Vatican Fatcats Suffer from "Spiritual Alzheimer's"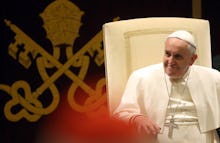 Pope Francis' year-end review of his peers isn't pretty.
On Monday, the pontiff fiercely criticized the group of cardinals, bishops and priests that serves him in the Vatican, denouncing officials who are in the job only for power and accusing them of suffering from "spiritual Alzheimer's" that has caused them to forget they are serving God.
The pre-Christmas address is usually a joyful message filled with holiday wishes and good news, but the normally chill pope was boiling with harsh criticisms. He said that the "terrorism of gossip" might "kill the reputation of our colleagues and brothers in cold blood," the Associated Press reports. 
Francis' list, with its Internet-approved title of 15 "Ailments of the Curia," aggressively criticized the insular nature of the Vatican and the corruption it breeds, an "ailment of feeling immortal, immune or even indispensable." Francis specifically took aim at the papal cliques that permeate the Holy See, arguing they can "enslave their members and became a cancer that threatens the harmony of the body" and should be killed with "friendly fire." He closed by telling members to get rid of their "funeral face" and stop acting "rigid, tough and arrogant" toward underlings. 
Needless to say, the cardinals weren't happy. The Associated Press said the speech was met with "tepid applause" and "few were smiling" after Francis was finished torching the assembled cardinals. 
Why it matters: While Francis has become something of a beacon for a newer, gentler Catholic Church to the rest of the world, he's also been leading a drastic revamp of the entire organization and hasn't shied away from criticizing the institution. 
One of his most controversial criticisms came in July, when he said there should be a "new mentality" within the Vatican's financial system in response to accusations of financial mismanagement and fraud in the highest echelons of the Catholic Church, including in the Vatican bank and its real estate assets agency. He said he organized a committee to represent "the church's awareness of its responsibility in protecting and managing its assets carefully in view of its mission to evangelize and particularly to help the needy."
In the past, Francis has also castigated the clergy for its handling of sexual abuse scandals and said the church's obsession with moral edifice might "fall like a house of cards" if it doesn't progress from its long-standing harsh views on gays and abortion. 
It still looks like the Vatican has a lot of work to do, at least in Francis' eyes.