George Clooney Just Gave 'Downton Abbey' Fans A Fantastic Holiday Present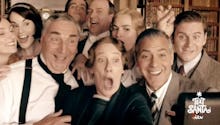 Not even the most stoic of British people are immune of George Clooney's charisma.
After months of waiting, Clooney made his dashing debut on Downton Abbey — sort of. The actor appeared in a sketch for a ITV's Text Santa charity telethon that imagined an alternative universe if Lord Grantham (Hugh Bonneville) never existed. Instead, Lord Hollywood, aka Clooney, ruled instead.
In a nod to It's a Wonderful Life, the nine-minute skit is a tongue-in-cheek parody of the stuffy show. It features all of your Downton favorites dissolving into pandemonium without Lord Grantham's stern hand. 
It's not surprising that the estate is completely enamoured with Hollywood royalty. But no one was more hooked than the dowager countess (Maggie Smith), who fell off the couch and rolled on the floor after receiving a kiss from Clooney. We feel you, girl.
(There's also Jeremy Piven cameo because he also has a show on ITV. Yay for synergy!)
Sadly, this will have to be your fill of the show until it returns stateside on Jan. 4 on PBS.