Adorable Ad Recreates Norman Rockwell Painting With Lesbian Moms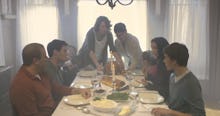 Just in time for Christmas, Tylenol is showing everyone what the holidays are all about.
Inspired by Norman Rockwell's instantly recognizable 1943 painting "Freedom From Want," the company's new advertisement puts a modern spin on his vision of the classic American family. One of three produced, the ad depicts a lesbian couple and family members gathering for Thanksgiving in a touching ad that shows love prevails over all.
"Norman Rockwell painted America's story for 60-plus years," says Rockwell's granddaughter Abigail in the narration. "Our definition of family is now expanding and blossoming, so it's not this rigid, fixed picture of what the family is." 
Enter the Beser Carr Schneider Musich family, which consists of a lesbian couple and one woman's ex-husband (and his new girlfriend) all sitting down for dinner with their children. "We don't talk about halves or steps," the ex-husband says. "We talk about family, siblings and parents and the willingness to remain included." 
"The core of Norman Rockwell's work is about coming together, just being present for each moment," Abigail reminds us at the end. "Family is what you make it out to be."
The ad was warmly received for its tactfulness. Tylenol produced the spot with great care so it didn't appear that it was targeting the LGBT community to help the brand's bottom line. 
"It's tapping into consumers' desire to align themselves with particular companies in order to make statements about themselves or their values," the Washington Post notes. Featuring gay families is a trend that's hot in the adverting industry as companies are trying to attract a broader consumer base. Both Cheerio's and Honey Maid debuted inclusive family-themed ads this year, too. 
Here, it's possible that the family dinner portrayed is more poignant than any of Rockwell's paintings. Well done, Tylenol.