There's a Big Problem for People Who Swear By Their Keurig Coffeemakers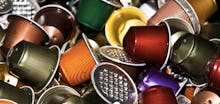 Some Keurig coffee machines are just too hot to handle. 
The company behind the fancy appliances announced Tuesday it's recalling 7.2 million single-serve brewing machines sold in the United States and Canada because they might overheat and spray hot liquid all over users. Another side effect: ruining people's mornings everywhere. 
The malfunction occurs when the device is used to brew more than two cups quickly in a row, Reuters reports. 
The details. Keurig has received a relatively small number of complaints — around 200, upon selling millions of products in some 13% of American workplaces — but 90 of those cases had burn-related injuries, according to the government's Consumer Product Safety Commission. The recall only pertains to the Mini Plus Brewing Systems sold between December 2009 and July 2014, as seen below.
The recalled brewers start with the model number K10, which can be located on the underside of machine. (Consumerist has compiled a list of all the coffee machines that are causing issues.) 
They were sold for about $100 online and at several retailers, including Kmart, Kohl's, Target and Wal-Mart. Mic has reached out to company for comment and will update this post with new information.
What if I have one? Keurig is telling users to call the company to receive a free repair kit. And don't panic, the company swears: "In the meantime, you can continue to use your brewer. ... We recommend you avoid brewing more than two cups in rapid succession and maintain an arm's length distance from the brewer during the brewing process." 
Also, wear a spacesuit. Just kidding.