Protesters Clash With Police After Black Teen Shot Dead Near Ferguson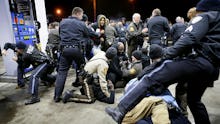 Protests erupted Tuesday night after an 18-year-old black man was shot and killed by police after allegedly pointing a gun at an officer at a gas station in a St. Louis suburb of Berkeley, a few miles from Ferguson, Missouri. The region has become a flashpoint for racial tension since unarmed black teenager Michael Brown was killed by a white officer in the summer. 
According to local media, St. Louis police were on a routine stop around 11:30 p.m. when the officer approached two men at a Mobile Gas station. As the officer approached the men, one reportedly pulled out a gun. The officer, who claimed he was "fearing for his life," fired several shots and fatally wounded him. The other man fled the scene.
A handgun was recovered at the scene, per a statement released from the St. Louis Police Department. The police haven't yet identified the teenager, but his mother, Toni Martin, told the St. Louis Post-Dispatch that his name is Antonio Martin. 
St. Louis County Police Chief Jon Belmar says the Berkeley shooting victim was black and the officer white. Police say video evidence will show that the teenager had drawn a gun on officers before he was shot.
"I had the opportunity last evening to review the video of the incident, and what I saw is not what people portray," Berkeley Mayor Theodore Hoskins said at a press conference Wednesday, referring to claims by protesters that the incident was similar to the shooting death of Michael Brown in August. "This is not a policeman half-cocked, you know black lives matter — this was not the case (that) you could even compare this with the Ferguson or Garner case."
An unidentified activist challenged the mayor at the press conference, saying local police have not shot any white men since protests began over the summer: "This has to stop happening right now ...a police officer has killed another young black man."
The protests: Martin's mother was heard saying, "They started shooting, that's my baby" in one Vine recorded on the scene. She said she didn't think he was armed and was meeting his girlfriend at the time. 
An angry crowd of about 200 gathered at near the scene of the shooting early Wednesday. Some protesters who stood around the gas pumps at the station were taunting and yelling at police officers, according to the Associated Press. 
"I can see about 50 cop cars, they're fighting and scuffling, the highway is blocked with cars, people are being arrested," photographer Bradley Rayford told NBC News. "Trash cans are on fire."
St. Louis County police said an investigation into the shooting is already underway.
Witnesses claim they were pepper-sprayed during the protest for failing to disperse. Police could not immediately confirm that pepper spray was used or that arrests were made, but videos from the scene showed authorities scuffling with at least a few protesters.
A police press conference is scheduled for Wednesday morning. 
Update 9:20 a.m.: Police have released surveillance video of the scene that shows a man pointing his gun at an officer. 
This article has been updated throughout.