Young Jeezy Just Gave an Amazing Christmas Present to 200 Inner-City Kids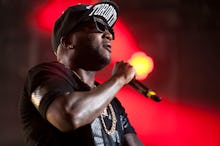 Young Jeezy is taking on a different name this Christmas: Santa.
Theatergoers were especially jolly after learning that the rapper had rented an entire theater for more than 200 inner-city kids and their families to see Annie. He also treated them to popcorn, soda and candy, which ended up costing him around $2,500, TMZ figures. 
"Jeezy was even passing out the popcorn himself," Tenisha Bell told the Atlanta Journal-Constitution. "What a wonderful way to pay it forward this holiday season."
Jeezy fully gets into the Christmas spirit, you see. He even gave out toys, in which he appropriately called him self "Santa Jeezy" and had a catered Italian dinner for everyone, the newspaper adds.
If that doesn't make you go "aww," than you're truly a Grinch.