1.4 Billion Reasons Why Jennifer Lawrence Won 2014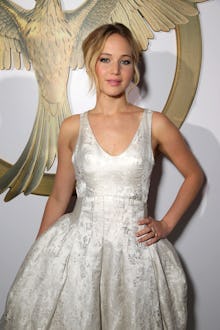 It's Jennifer Lawrence's world, and we're just living in it.
At just 24, the starlet has accomplished more than most have in our lifetime. She's an Oscar winner. She's charted on the Billboard Hot 100 list. And, according to Forbes, she's the highest-grossing actor in all of Hollywood, raking in a whopping $1.4 billion at the box office this year thanks in part to blockbusters like The Hunger Games: Mockingjay Part 1 and X-Men: Days of Future Past. 
But for all of her success on the screen, she's had her share of troubles. And her responses to those issues remind us that Jennifer Lawrence is more than just a brilliant entertainer. 
"It's my body, and it should be my choice, and the fact that it is not my choice is absolutely disgusting," she said, labeling the event not as a scandal but as a "sex crime."
In an interview with BBC Radio 1, Lawrence rid herself of the World Wide Web's ugliness by completely logging off as a result of the hacking controversy: "Because the Internet has scorned me so much, I feel like it's that girl in high school, that I'm like, 'Oh, you wanna talk about her? Yeah, I'll do that. ... Take my hoops off, I'm ready to go,'" she said.
Look out for Lawrence in 2015. But that doesn't mean we will see or hear less from the talented star. She's reuniting with her Silver Linings Playbook director David O. Russell for a buzzy moved called Joy about a rags-to-riches tale of a stay-at-home Long Island mother who invented the Miracle Mop. She also has the final Hunger Games movie in the works, too. 
If 2014 was any indication, Lawrence is going to rule 2015 — both onscreen and off.