Bodies and Debris Recovered From Missing AirAsia Plane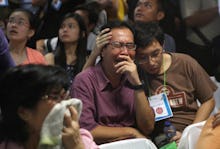 After more than two full days of searching for missing AirAsia Flight 8501, Indonesian officials confirmed the worst: The passenger airline likely crashed into the Java Sea.
Rescuers located wreckage, several bodies and debris from the plane in the choppy sea off the coast of Borneo on Tuesday, near the area where the jetliner last had contact with air traffic control, the Associated Press reports. 
The plane was carrying 162 passengers and crew when it vanished midway through its flight on Sunday between Surabaya, Indonesia, and Singapore. It encountered stormy weather but never sent out a distress signal.
A fleet of more than 30 helicopters, ships and planes located what appeared to be debris from the aircraft, including life jackets and an emergency exit door. Rescuers also recovered a blue plastic suitcase in nearly perfect condition. The actual body of the AirAsia plane hasn't been found. 
Indonesian Navy officials said 40 bodies had been recovered before dusk. They didn't elaborate on the possibility of survivors, as slim as it might be at this point, Reuters reports. 
Relatives, gathered at a crisis center in Surabaya, loudly wept as they watched images of the bodies being recovered on live television; several people collapsed after hearing the a reporter on the scene confirm the terrible news. "Many screamed and wailed uncontrollably, breaking down into tears while they squeezed each other," the Associated Press reported.
Following the confirmation of the plane's debris being located, AirAsia CEO Tony Fernandes tweeted that his "heart is filled with sadness for all the families involved" with the fatal flight. "On behalf of AirAsia, my condolences to all. Words cannot express how sorry I am," he added.
Search-and-rescue operations will resume in the morning.