The Voice of Chuckie From 'Rugrats' Has Died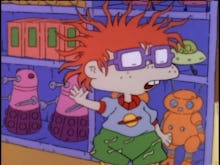 In a tribute video released today, the Daily News has reported the passing of Christine Cavanaugh, the voice artist behind Chuckie of Rugrats:
"Although Christine Cavanaugh might not have had the most recognizable name, she was the memorable voice behind several iconic 1990s children's television characters. TMZ reports that the 51-year-old died Dec. 22, although the details about it are scarce."
The video continues: "Cavanaugh voiced many cartoons, including Goslyn on Darkwing Duck, Dexter on Dexter's Laboratory and was even the voice of Babe, the noisy piglet in the 1995 movie classic. Her most recognizable role was Chuckie Finster, the precocious redheaded toddler on the hit Nickelodeon show."  
Born in Utah, Cavanaugh attended the University of Hawaii before moving to California to pursue an acting career. In an obituary in the Los Angeles Times, she was praised for her "imagination, humor and intelligence."
"She was able to do incredible and amazing things with her voice and bring lots of smiles and many laughs to many people who are now young adults," the obituary said. "It was of no surprise when she was able to share her talents with the world. Many know of her from the roles she played, but in each role there was a part of her showing through that the ones who truly knew her could see."
Cavanaugh retired in 2001 to be closer to her family. She is survived by her father and his wife, as well as her sister, brother, step-siblings and many nieces and nephews. 
Editor's Note: Feb. 13, 2015
Due to an attribution error in the editing process, an earlier version of this article failed to include a link or attribute passages to the Daily News. Additionally, the original story reported that Cavanaugh was survived by her dad and sister; she was also survived by her step-mother, brother, step-siblings and extended family. The story has been updated to include both of those changes.