Sonar May Have Found the Final Resting Place of AirAsia Flight QZ8501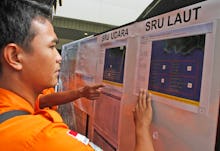 The search for doomed AirAsia Flight QZ8501 might soon come to an end. Indonesian officials believe a sonar-detected image of a large, dark object floating deep in the Java Sea is the missing airliner.
The development comes as the massive multinational search effort consisting of several ships, helicopters and planes ended its fourth day after the passenger jet with 162 aboard lost contact with air traffic control midway through its short flight Sunday between Surabaya, Indonesia, and Singapore. 
CBS News reports that it's unclear if the plane is intact. Likely proof that the plane crashed came Tuesday after reports of a "shadowy" object was seen floating off the coast of Boreno, not far from where the plane disappeared from radar screens. Since Tuesday, rescuers have recovered plane debris, passenger belongings and seven bodies floating near where the plane went down. 
Until the plane's black boxes are recovered, what brought the AirAsia flight down remains a mystery. If the pilot's last communication with air traffic control is any indication, stormy weather might have played a factor: Investigators are focusing on the timing of the crew's request to climb to a higher altitude to avoid bad weather as a possible factor behind the tragedy, Reuters reports.
More details of the final moments are emerging as the search continues. A body recovered Wednesday was wearing a life jacket, raising new questions about how the disaster unfolded and supporting a theory that the Airbus A320 suffered an aerodynamic stall and remained intact before hitting the water. 
The search will resume Thursday morning.