Watch the Russian Red Army's Truly Bizarre Version of Pharrell's "Happy"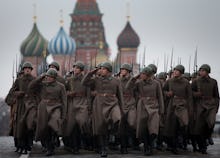 With plummeting oil prices, a collapsing ruble and a dictatorial president-for-life, at least Russians can sing about being happy.
The celebrated Red Army Choir, best known for belting out patriotic toe-tappers like "Gosudarstvenny Gimn Rossiyskoy Federatsii," has released its take on Pharrell Williams' "Happy." 
Granted, it might not be the most appropriate song at the moment, given the embattled country's economy is near collapse, and critics have charged President Vladimir Putin with not having a turnaround plan, but at least the choir does a great job making us believe that everything is OK over there.
The one-minute video is primed for viral gold:
The Red Army Choir was formed during World War II to improve the mood of tired soldiers, the Independent reports. More than 75 years later, whether this rendition of the song of the year performs that essential duty is debatable.
The Red Army Choir has a history of perfecting the art of the homemade music video in order to get clicks. The choir's playlist includes Daft Punk's "Get Lucky" and Adele's "Skyfall." "Happy" hasn't been been at the top of the Russian charts for nearly a year, which means that the Red Army Choir's cover of "All About That Bass" is probably due out in 2016.
h/t the Independent