Someone Is Finally Suing Apple Over Its Storage Space Nightmares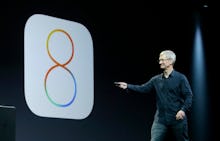 Apple's iOS 8 keeps raking in the hate.
After a disastrous release that left many users not even able to use their iPhones, Apple is facing a class-action suit over one of the most frequent critiques of its latest operating system: that customers were misled about how much space it takes up. 
The lawsuit: Filed by Florida residents Paul Orshan and Christopher Endara, the suit accuses Apple of not telling users how much storage space iOS 8 takes up on 8 GB and 16 GB iPhones, iPads and iPods. 
The men say Apple "fails to disclose to consumers that as much as 23.1% of the advertised storage capacity of the Devices will be consumed by iOS 8 and unavailable for consumers when consumers purchase Devices that have iOS 8 installed."
That's a substantial amount of space, notes MacWorld. 
The iOS 8 update "does gobble a significant chunk" of storage compared to the iOS 7. On the iPhone, the new version takes up 740 MB while on some iPads it's more than 1 GB. "If you're using a 16 GB device, that's 4.5 to 6.4%," MacWorld reports. "Which doesn't sound like a ton, but 740 MB can hold a lot of photos." By our calculations, that's 350 downloads of Taylor Swift's "Blank Space."
Problems with the iOS 8 first arose when users complained that it required them to free up 6 GB of storage before they could update their devices. That led to Apple users fuming on Twitter that they had to clear out photos, songs and apps just to make space for a simple operating system update. 
Without storage on their iPhones, iPads and iPods, Apple is basically forcing users to buy storage on their iCloud service, the lawsuit claims. Apple conveniently offers "to sell that capacity in a desperate moment, e.g., when a consumer is trying to record or take photos at a child or grandchild's recital, basketball game or wedding," the lawsuit says. 
The plaintiffs are seeking damages "in excess of $5 million" and demanding changes to Apple's policies. 
What now? This isn't the first time the multibillion-dollar company has dealt with peeved users — and successfully won. Three years ago, Apple fended off a Canadian lawsuit that it had misled users about the amount of space available in its iPods. 
Even though some critics blast the lawsuit as a "bit whiny," Orshan and Endara's lawyers don't see it that way. 
"We feel that there are a substantial number of Apple consumers that have been shortchanged, and we'll be pursuing the claims vigorously," William Anderson, a lawyer at Cuneo Gilbert & Laduca, told SiliconBeat. 
A company spokesman "declined to comment" about the lawsuit to SiliconBeat.