Bono Just Said He May Never Play Guitar Again Because of His Accident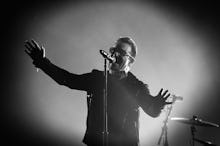 "As I write this, it is not clear that I will ever play guitar again."
That's the heartbreaking message U2 frontman Bono told fans in an emotional 6,000-word blog post Thursday. The Irish megastar is still recovering from a November cycling crash in New York City's Central Park that broke his arm in six places and fractured his eye socket.
In the year-end reflection post, Bono wrote out about the effects he's still feeling from the crash, revealing that the recovery "has been more difficult than I thought." But keeping with his typical light-hearted tone, he mocked the Lycra shorts he was wearing ("This is not very rock 'n' roll") and said his bandmates "have reminded me that neither they nor Western civilization are depending on this."
The 54-year-old singer says he would try to be "more mindful" of his limits but apparently didn't listen to himself. Bono writes:
"I promised myself I would be more mindful of my limits, but just four years on, it happened again - a massive injury I can't blame on anyone but myself, mainly because I blanked out on impact and have no memory of how I ended up in New York Presbyterian with my humerus bone sticking through my leather jacket. Very punk rock as injuries go."
In order to get better for U2's upcoming tour, he said he's canceling all public appearances and that this post will be his only public communication for the time being — besides the "muttering and singing to myself, of course," he joked.
That's likely for the best, since Bono's recovery is going to be long. His surgeon told Rolling Stone that Bono had to undergo five hours of surgery and rebuild his arm with three titanium metal plates and 18 screws.
Hopefully Bono's dramatic predictions aren't true, and the iconic guitarist can return back to full form.
h/t BBC News